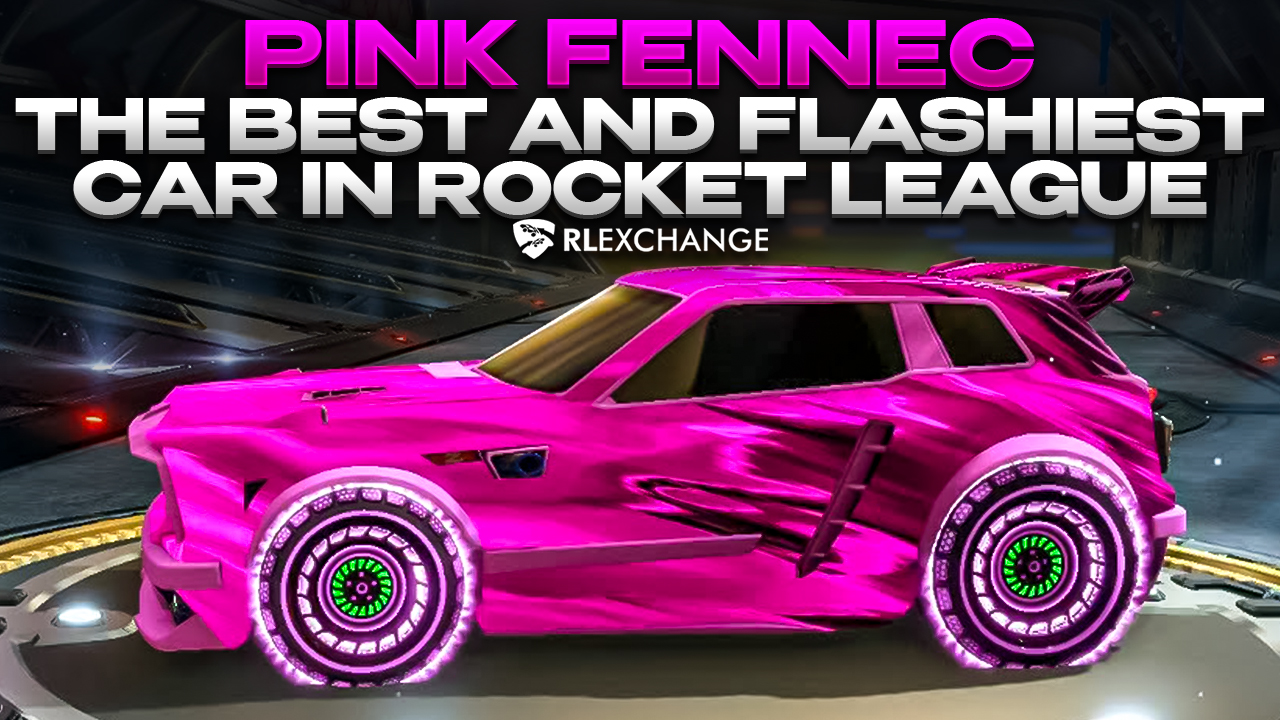 Pink Fennec: The Best and Flashiest Car in Rocket League
Every Rocket League enthusiast knows about the Fennec. It is one of the most popular car bodies in the entire game, and players love to show it off in the arena. However, as more and more people choose it as their battle car, it is becoming increasingly more difficult to stand out in a Rocket League match. But don't worry because we have some good news for you. Pink is officially the new black, and that's why you should replace your usual boring ride with a flashy new version. Go ahead and read what we have prepared for you to find out how to get the Pink Fennec in Rocket League.
What You Need to Know About Fennec in Rocket League
Fennec is one of the most popular cars in Rocket League. It first appeared in July 2019 as part of Totally Awesome Crate. At first, it wasn't much of a hit, but it wasn't long before players fell in love with it.
What prevailed over Fennec's popularity was its rapid adoption by the pro scene. Later that year, Chausette45 decided to use it as his battle car in a competition, causing the perception of this relatively new car to change completely. It didn't take long before it became the most used vehicle in the entire game. Players loved it for its versatility and great looks. It's important to note that the car is equipped with the same hitbox as Octane, which was consistently the most popular choice among players until 2019. As a result, it's relatively easy to control and allows you to perform a lot of tricks, which makes it a great option for both newcomers and old-timers. But about that in a moment.
Is Octane the Best Hitbox?
Fennec features the Octane, which is widely considered to be the best hitbox in the game. Is this really the case?
Some argue that it is not necessarily the best, but simply the most widely used due to the fact that it is the default choice for anyone starting out in Rocket League. And while that may be true, it's hard to argue that it's actually a great car body. Many pros choose the Fennec as their competitive vehicle as it is extremely easy to control and thus supports the performance of various useful tricks. On top of that, its statistics are the most balanced, making it the most versatile and stable of all available cars. Some people complain that it performs poorly in the air due to its length (Octane is the shortest hitbox in the game). However, judging it in terms of overall dynamics and handling in the game, we can conclude that Octane is indeed the best car in Rocket League.
Why Is Pink Fennec the Best?
Now that you know why Fennec is the best car and Octane the best hitbox, you're probably asking yourself: but why pink?
Well, the answer is quite simple.
Stand Out in the Rocket League Arena
First of all, as we mentioned, a pink Fennec will ensure that you stand out in the arena among all the other Fennecs. The chances of meeting another copy of this car in a single game are high, however, the chances of meeting an equally bold player are extremely low. Thus, everyone's attention will be on you, and your rivals will have no choice but to reckon with you.
Enjoy the Flashiness
Second, it's probably high time to stop with boring and conservative designs. The pink Fennec looks simply cool. It's as eye-catching as it is flashy, making it the perfect addition to virtually any player's inventory. By choosing it as your battle car, you will overcome dullness and enter a whole new level in Rocket League. Stand out from the crowd and be the first to discover the secret of pink equipment.
How Do You Get the Pink Fennec?
Initially, the Pink Fennec was made available through the Totally Awesome Crate.
However, since crates were replaced by the blueprint system at the end of 2019, players had to find another way to add this vehicle body to their in-game inventory. Now the Pink Fennec can be obtained in the official Item Shop, on reputable third-party sites such as RL.Exchange, as part of a trade-in or through player-to-player trading.
Here is an in-depth explanation of how to obtain the Fennec in Rocket League.
How Much is Pink Fennec?
Fennec is a rare import body, and getting it through random drop borders on the miraculous. Furthermore, acquiring its blueprint is just as difficult. Therefore, most often the only option is to purchase it. Fortunately, the pink variant is somehow in the middle of the pack when it comes to Fennec's price scale.
Whether you decide to get the Pink Fennec in the Item Shop or through trading, it's good to be aware of its price. Of course, costs may vary depending on your platform of choice. It's important to remember that sometimes it may be cheaper to buy a certain vehicle body on Xbox than on PC for example. Rocket League players should always be aware of fluctuations happening in the item market.
Current Prices of the Pink Fennec:
PC: 600-800 RL Credits
Xbox: 450-600 RL Credits
PlayStation: 400-500 RL Credits
Nintendo: 400-500 RL Credits
Conclusions
There is no doubt that Fennec is one of the best cars available in Rocket League. Both casual players and RL pros love to show it off in matches. Whether you want good looks or easy controls, this car will give you it all. So, if you decide to battle it out in the arena, be bold and choose the pink variant. This will not only make you stand out among your opponents but also give you the confidence to quickly climb the leaderboards.