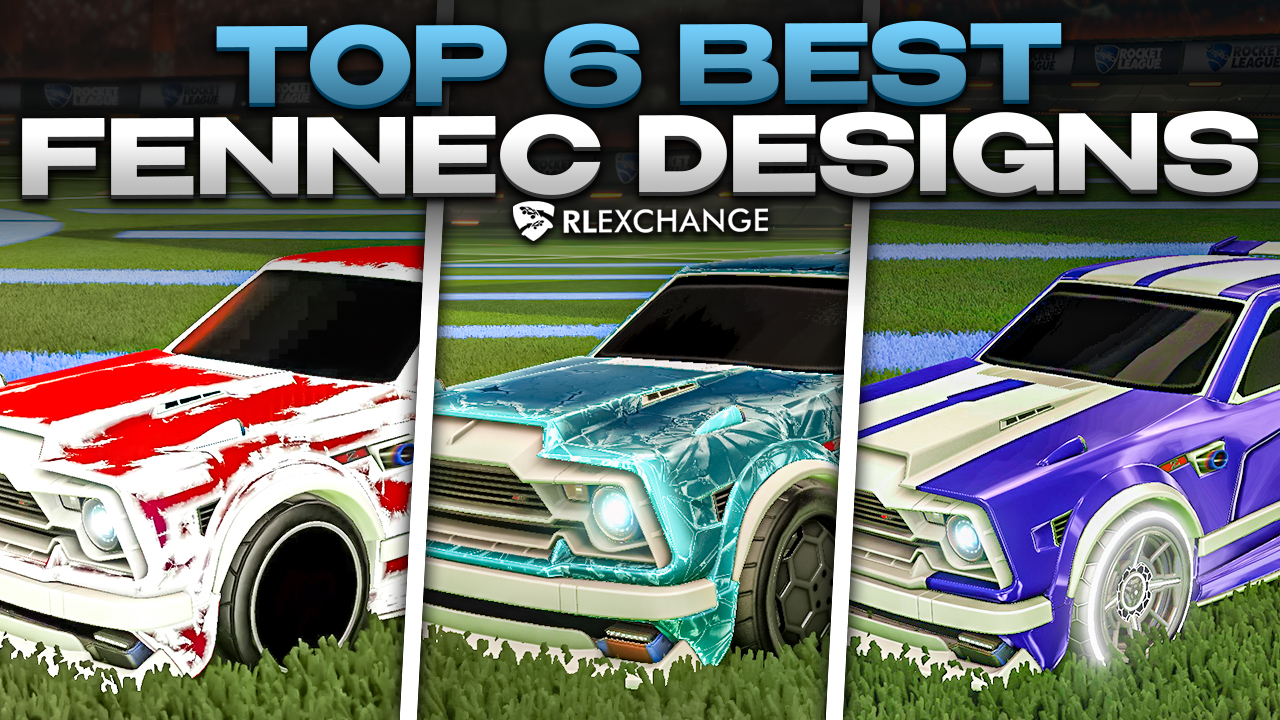 Top 6 Best Fennec Designs
Rocket League features a wide selection of different cars for the players to choose from, but not too many of them can compete with the all-time classic that is the Fennec. This vehicle combines the classic car aesthetics from the 90s, with the best competitive hitbox you can get in the game, the Octane.
Due to all these reasons if you're playing Rocket League, there's a high chance that you'll see Fennec in-game more than once. Rocket League players love the Fennec, and this isn't going to change anytime soon.
If you've got a Fennec car body in your Rocket League Garage, chances are you might need some inspiration to give your car a unique look. Here are the 6 best Fennec Rocket League designs you can get.
Neon Red
This design takes advantage of the traditional, classic look of the Fennec body and combines it with futuristic, glowing details all over the car. This combination of items looks even better in motion, since your Fennec will leave a trail of red light and smoke behind it. The Neon Red design is a great way to give your Fennec in Rocket League a deadly look. To get this car design, you need the Crimson Fennec Body as the base, combined with the Hyperspace animated decal. The crimson painted variant of Floret: infinite wheels gives the car it's finishing touch, making it look like a futuristic cyberpunk vehicle. The Fissure rocket boost and rocket trail are the finishing touches, making this design flashy and impressive.
Retro Cruiser
This Fennec design takes advantage of its classical, almost old-school look and vibrant colors to give your car a genuine retro look. To get this design for your car, you will need two core items: orange Fennec body and Saffron painted version of the Hardline decal. These two rare items can make your car retro by itself, but this design also uses the Sunset 1986 wheels to give it a finishing touch. If you want to make your car even more retro, add some large, visible antenna item, such as the skull antenna.
Blue Stipple Gait
This Fennec design is for the fans of simpler looks, that still manage to stand out in a match. It takes advantage of the awesome Stapple Gait decal, giving your car a look that simply can't be ignored in a match. Best part? You don't even need any rare visual items to nail this look, besides the animated black market decal, you need the Fennec body, as well as the Season 9 wheels, ideally in the diamond variant, but if you didn't reach diamond rank last season, other wheels of this type will do alright as well. For a cheeky detail, add the multichrome version of Pixelated Shades.
Green Leaves
This Fenned design is the best choice for any fans of nature. Although it doesn't use any flashy animated decals or rocket boosts, other players won't be able to overlook the piles of leaves that your car will leave all over the field. While for some this is a bit too much, many players enjoy this slightly annoying look. To start, you need the Forest Green Fennec body, combined with the Forest Green Palm Frond decal. But that's not enough forest green items, one of the most crucial parts of this design is the Forest Green Leaves Rocket Boost. Finally, you add the Overgrowth goal explosion to spread leaves and greenery all over the field.
Orange Stream
This design takes advantage of the Tidal Stream decal and how well it looks on the Fennec body. To get this neat look, you need to combine this animated decal with the Black Fennec Body. For the decal you need to choose the black color scheme, and combine everything with the Orange Twista: Infinite wheels. A combination of just these couple of items will give your car a hypnotic yet sleek look.
Fiery Orange
The last Fennec design on the list might look somewhat extreme, but it's perfect for all the fans of firey looks. With this design, your car will be literally on fire, so it'll be quite impossible to miss. To begin with, you need the Orange Fennec Body, as well as the Fire God Animated Decal. As if this isn't enough, you also need the crucial element, Campfire Topper. Finish everything off with the Hellfire Goal Explosion, and you'll have your amazing fiery design ready.
How To Get The Fennec?
Fennec is a rare Car Body, but it's actually quite easy to find, if you want to try it out in your game. If you want to get a Fennec of your own and try out any of the designs mentioned in this article, you can:
Complete A Fennec Blueprint
Trade With Someone On The Same Platform
Get It In A Crate Drop
Purchase Credits And Get It In The In-Game Store
Purchase a Fennec Body on RLexchange
In Conlusion
Fennec is one of the more popular car bodies you can get in this game. If you liked any of the designs mentioned in the article, remember that you can always get them for the lowest prices available at RLexchange.com