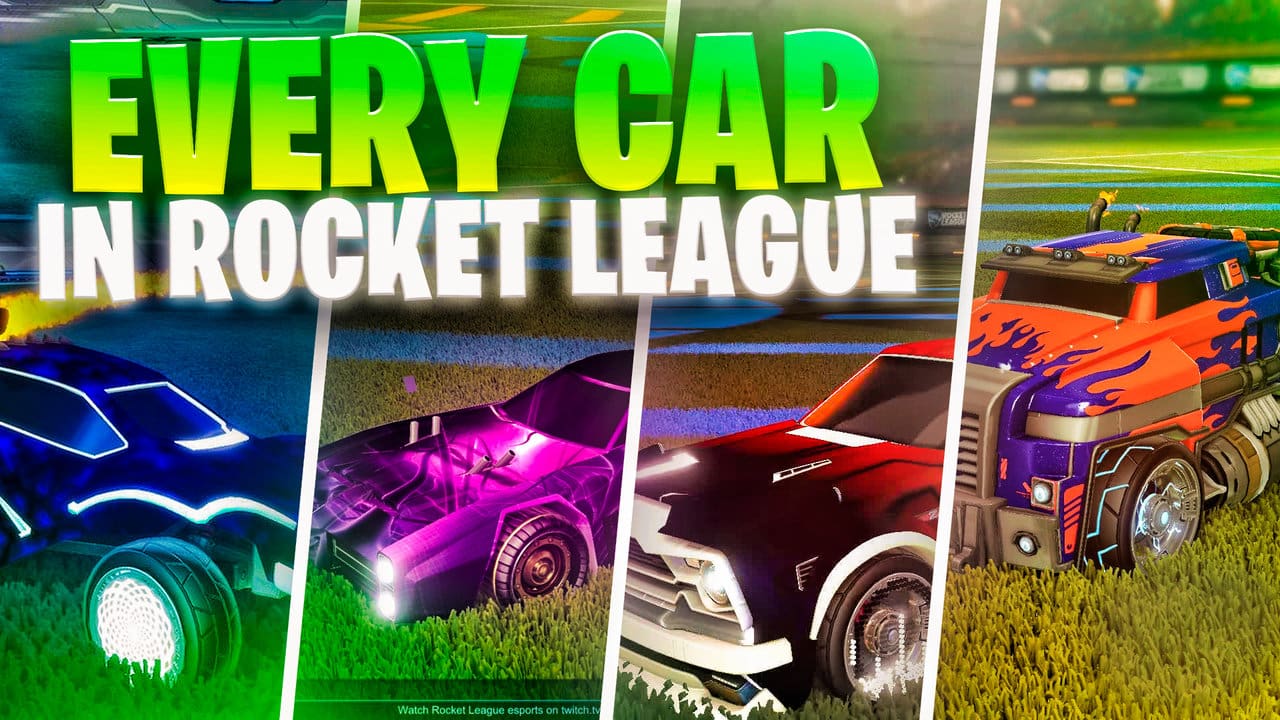 Every Car in Rocket League – Complete List
In the tireless battle to reach the best possible rank in the ladder, you must look good at the same time. Rocket League gives you all the options to shine in the arena and show the community how to dominate the match. In this quick read you will learn about changing different parts of your ideal Rocket League car
With this freedom in hand, you can build the ideal mix of the car's body, painting, decals, etc. As a result, your creative mind has the potential to create exciting combinations that could outshine the rest of the community. Most noteworthy, you could leave a trademark with the ideal combination to differentiate yourself from the casual playerbase.
Also Read: Rocket League Ranks – RL Ranking System & MMR Explained
Throughout the years, developers have made an astonishing list of cosmetics for you to explore. Indeed, due to all of the possible unlockables, you'll spend a lot of time building your collection. And once you become a professional player, you'll have lots of options at your disposal.
In this article, we'll discuss all the different Rocket League Cars available at the moment and how to increase your account's collection.
Rocket League Cars
The premise of the game is simple; you need a stadium, a ball, and a couple of cars that each player controls. In the middle of it all, gaining a victory purely depends on your skill and the best strategy. Therefore, once you are in the game, make your plan and score as many goals as possible. It is crucial though, that you spend a lot of time in the game practicing and master the different controls and maneuvers.
Another part of the game that is attractive for the playerbase is the freedom to customize your car. Thankfully, in Rocket League, all of these changes are mostly cosmetic and will not affect the gameplay (for example, the hitbox could vary). In other words, even though you could obtain the most expensive car in the field, you have almost no advantages over other players. You won't gain additional speed or accuracy if you equip the rarest bodies or decals, so choose the ones that you find the coolest.
Rather than having an unequal match between veterans and new players due to purely car's customization, everyone on the field has the potential to win. So if you see a player with the Twin Mill III, your Breakout still has the potential to win without being at a disadventage . If you start playing right now, you even could become a professional and win major tournaments.
Also Read: Rocket League Pro Players Settings – Best Settings Possible!
Rocket League Cars Rarity
Every item in this list of Rocket League Car customizations comes with different rarity. Similar to almost all of the games with varying types of equipment, some items can look 'flashier' than others. Therefore, adding such cosmetics to your collection may take some effort or real money. Taking this into consideration, here is the list of the different types of "Car Bodies" in Rocket League:
Common: The name says it all; these types of items always have fewer requirements to unlock. Furthermore, since a portion of the players has no interest in changing their car, you could see them more often. Most noteworthy, some elements in this list already become unlocked with the game, or require a couple of matches to obtain. The Common Rocket League Cars are the following: Backfire, Breakout, Gizmo, Hotshot, Merc, Octane, Paladin, Road Hog, Venom, and X-Devil.
Import: This is the next level of rarity in the customization theme of the Rocket League collection. Some of the elements that belong in this list came from retired Crates that no longer exist in the game. Luckily, you still have a chancel to unlock some of these items by acquiring Blueprints. These are the Import quality bodies: Animus GP, Breakout Type-S, Centio V17, Cyclone, Diestro, Dominus GT, Endo, Fennec, Imperator DT5, Jäger 619 RS, Mantis, Nimbus, Octane ZSR, Peregrine TT, Road Hog XL, Samurai, Sentinel, Takumi RX-T, Twinzer, Werewolf, and X-Devil Mk2.
Exotic: A few cars in the entire collection of Rocket League have the title of Exotics. In contrast, though, it is a type of rarity that is almost non-existing in other video games, in Rocket League you can have them easily. As a result, when you first launch the game and play the first time, you can equip these exotic items right away. At the moment, the only vehicles that belong in this group are Dominus and Komodo.
Limited: Cars of this group became available to the public through special requirements and a periodical events. Hence, you had limited time to acquire some of these Vehicle Bodies before they would go away for good. For example, you'd need to obtain the Season Pass, or link your account with Twitch Prime. Luckily some of these cars in Rocket League can still be traded. This time around the limited Battle-Cars are Artemis, Chikara, Guardian, Maverick, Mudcat, Nemesis, and Ronin.
Premium: All of the car bodies that came from other famous pieces of media belong to this group. As a result, you'll have the potential to see famous cars from different movies, comics and other trademarks. Sadly, some of this DLC is currently unavailable in the game, which means that you have no way to obtain some of these cars. Still, there's always a chance that they may return individually in Rocket League. In this group, you can find: '16 Batmobile, '70 Dodge Charger R/T, '89 Batmobile, '99 Nissan Skyline GT-R R34, Aftershock, Bone Shaker, DeLorean Time Machine, Dominus, Ecto-1, Esper, Fast 4WD, Gazella GT, Grog, Ice Charger, Jurassic Jeep® Wrangler, K.I.T.T., Marauder, Masamune, McLaren 570S, MR11, Nemesis, Proteus, Ripper, Scarab, Takumi, The Dark Knight Rises Tumbler, Triton, Twin Mill III, Vulcan, and Zippy.
Exclusive: Iconic Cars in this category were added by Psyonix in collaboration with developers from each platform the game is on. As a result, you'll have the potential to see "console" related items that belong to exclusive games from that environment. For example, one of the cars Rocket League could become the Sweet Tooth, which became famous from the Twisted Metal franchise. Besides the Sweet Tooth, you could also find Armadillo, Hogsticker, Luigi NSR, Mario NSR, and Samus' Gunship.
Also Read: Rocket League Cars List & Their Hitboxes
Additional Customization
Besides the Rocker League Cars Bodies mentioned above, you could customize even further with more exciting options. For example, you could choose the Octane, and mold it to your liking with other options in the Garage. First of all, you could add attractive decals that create moving shapes or figures around the vehicle. Secondly, you can create unusual combinations with the Paint Finish. Furthermore, you could change some Wheels, Rocket Boost, etc.
When you have your perfect vehicle, with all of the possible combinations, that Octane will look different from the rest and more attractive to your eyes.
What's the best car in Rocket League?
There's a constant battle between Octane and Dominus in the Rocket League Cars community. Hence, you'll see either of these two options regularly during matches. Due to their shape and the current hitbox that each of them has, it seems that everyone can master them pretty quickly. You can find both Octane and Dominus in your inventory from the moment you launch Rocket League for the first time.
Read: Blueprints Rocket League – 2020 Update
Still, though, if you want to move away from the conventional options, you could find other items that may identify with you. All of the Rocket League Cars have the potential to give you surprising wins.
Possible Candidates
We still haven't seen it all in the Rocket League Garage. Therefore, there could be exciting options in the future. For example, the "Mad Max" franchise already has a lot of impressive vehicles that could add more depth in this part of the game. Also, who knows, we could even see futuristic cars from Cyberpunk 2077. The options are relatively endless.
Also Read: Rocket League Black Market Decals Complete Price List