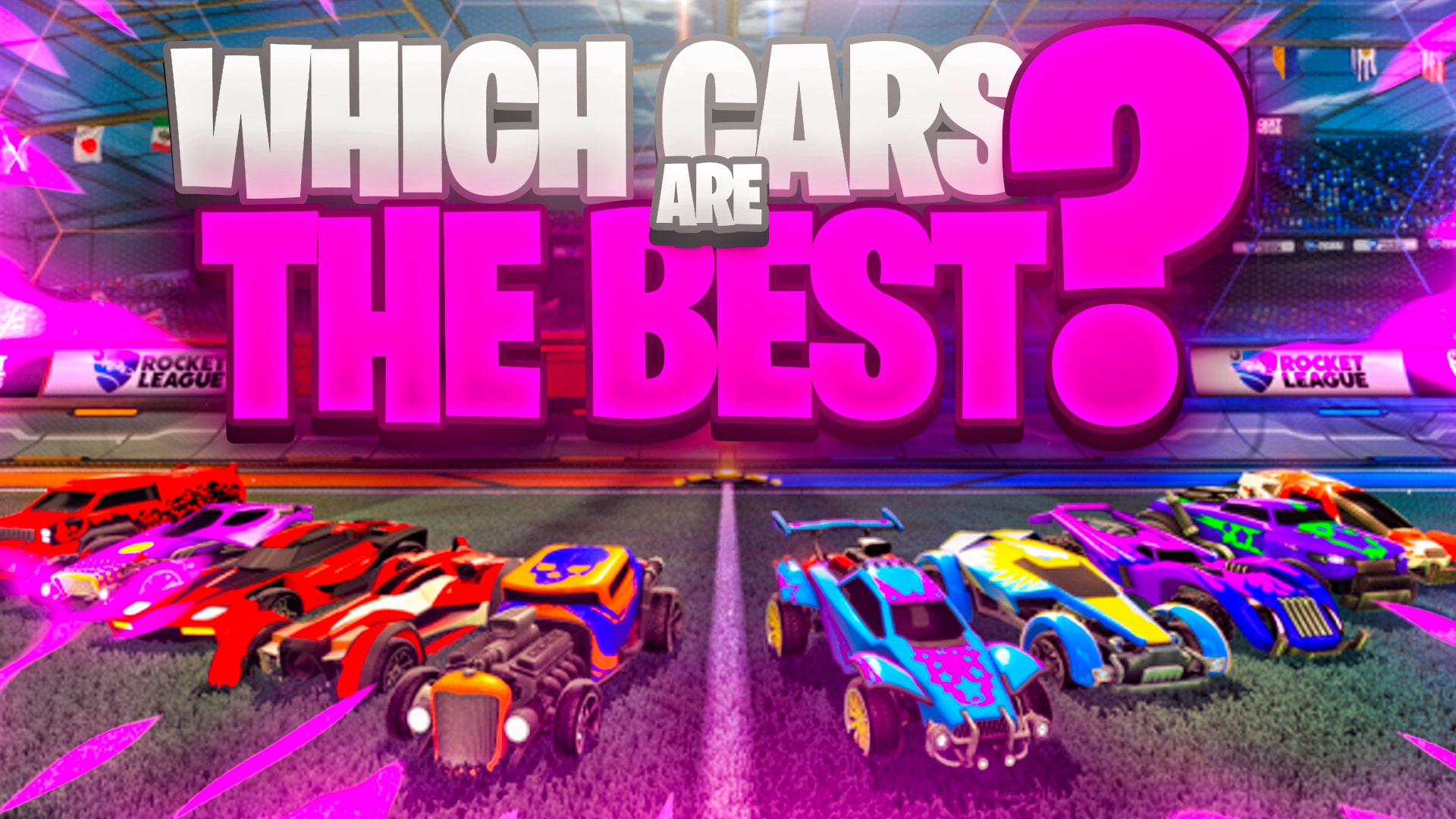 Rocket League Cars List & Their Hitboxes
Are you thinking about starting to play in Rocket League or you consider buying a new battle-car? In this article, we answer some of the questions you might have.
Rocket League includes six categories (rarities) of vehicles. Starting with the most basic vehicles, named common, through these, which you can get by trading with other players (import) and ending at exclusive ones, only available throughout buying DLC, those are called premium. Summing up you can choose between over 65 battle-cars.
Also Read: Fennec Rocket League – The Car of Choice
Common
The first 10 vehicle bodies, which are considered as common, you either have already unlocked by default (Octane, Gizmo, Road Hog and X-Devil) or you can get by simply playing competitive matches. Since August 3, 2017, some of these cars get painted variants. They can be found in the rocket league trade-in system.
Common cars:
Octane, Gizmo, Road Hog and X-Devil – unlocked by default
Backfire, Breakout, Hotshot, Merc, Paladin, Venom – unlocked by playing competitive matches
Exclusives
There are also 6 cars, which are exclusively on platforms such as Xbox One, Nintendo Switch, PlayStation 4.
Cars only available on Xbox One:
The Armadillo – unlocked by completing a season in the single-player Season Mode
Hogsticker – unlocked by playing one match with every common body
Cars only available on Nintendo Switch:
The Mario NSR may only be used while on the orange team, while the Luigi NSR is only available on the blue team. Both unlocked on Nintendo Switch by default at the beginning of the game.
Samus' Gunship – unlocked by completing matches
The car only available on PlayStation 4:
Sweet Tooth – unlocked by playing one match with every common body
Import
The next rarity is Import bodies. All 21 of these vehicles can be obtained via blueprints or trade-in system, which the game has offered since June 20, 2016. Import battle-cars such as Breakout Type-S, Octane ZSR, Road Hog XL, X-Devil Mk2 and Takumi RX-T are special variant vehicles of already existing ones in the game. Therefore they have the same hitboxes and physics as their original counterparts. All 4 of these vehicle bodies can only be found in specific kinds of blueprints.
Exotic
In this category, you can only found 2 vehicles:
Dominus-was unlocked by buying DLC until 2019, now you can obtain Dominus by buying it in the Rocket League item shop
Komodo-can be found in the Ignition Series blueprint.
Limited
The Nemesis is the only rocket league car in limited rarity. It can only be unlocked linking your Twitch Prime account with the Rocket League platform of choice.
Premium
These 22 vehicles were available to obtain by buying game DLC. However, Psyonix in 2019 decided to discontinue selling all of the custom content. They let players keep already bought DLC. Since December 11, 2019, you can buy them in the Item Shop.
Can I buy vehicle bodies in Rocket League?
Since 2019, when Psyonix decided to no longer sell their DLC, you can only buy bodies in the Item Shop. What is the Item Shop? It is an in-game store, which allows you to purchase vehicle bodies with real money. Every 48 hours Featured Items are rotated giving you access to new content. It also happens with Daily Items however, in this case, items rotate every 24 hours. You can found Item Shop in the main menu of the game. In this store, you can also purchase items like Player Banners, Exotix Wheels and Goal Explosions. For all of them, the Rocket League provides pictures, so you know if an item you are buying is Painted, Certified or Special Edition variant.
Also Read: Dissolver Rocket League Decal – Triumph Crate Exclusive
Rocket League Cars Hitboxes
If you think that vehicle bodies are not important, you are wrong. They do matter, especially for high-leveled players. Creators gave similar speeds to all vehicles' bodies. Rocket League with that feature is fair for all players. The differences start with the length, width and height of the bodies as those stats make hitboxes of the vehicles. Hitbox is an invisible shape, used in collision detection to determine whether another object collides with the model. In simple terms, it is the surface of your car that allows you to hit a ball.
There are 5 categories of hitboxes:
Dominus hitbox
It is the most balanced hitbox that can be used in any situation. Except for the Dominus, there are also different cars with a similar surface area:
'89 Batmobile
Aftershock
Chikara/Chikara G1/Chikara GXT
DeLorean
Diestro
'70 Dodge Charger R/T
Dominus
Dominus GT
Ecto-1
Gazella GT
Guardian/Guardian G1/Guardian GXT
Hotshot
Ice Charger
Imperator DT5
K.I.T.T.
Masamune
Maverick/Maverick G1/Maverick GXT
McLaren 570S
MR11
Nemesis
Ripper
Samus' Gunship (Nintendo Exclusive)
Werewolf
Breakout hitbox
This hitbox is narrower which makes it a rarely chosen option. The game offers you more than one possibility:
Animus GP
Breakout
Breakout Type S
Cyclone
Samurai
Hybrid hitbox
The hitbox of the hybrid is pretty tall, which makes it the second tallest hitbox. Apart from that, it has the same length as Dominus. In this category, in which you can find 8 vehicles:
Endo
Esper
Jäger 618 RS
Nimbus
'99 Nissan Skyline GT-R R34
Venom
X-Devil
X-Devil MK2
Octane hitbox
Octane hitbox is the most popular type. It gives you the best game experience thanks to the short length and as a result of the tall hitbox, you can easier hit the ball. This category has the longest list of vehicles:
Armadillo (Xbox One Exclusive)
Backfire
Bone Shaker
Fast 4WD
Fennec
Gizmo
Grog
Hogsticker (Xbox One Exclusive)
Jurassic Jeep Wrangler
Luigi NSR (Nintendo Exclusive)
Marauder
Mario NSR (Nintendo Exclusive)
Merc
Mudcat/Mudcat G1/Mudcat GXT
Octane
Octane ZSR
Proteus
Road Hog
Road Hog XL
Scarab
Sweet Tooth (PlayStation Exclusive)
Takumi
Takumi RX-T
Triton
The Dark Knight Rises Tumbler
Twinzer
Vulcan
Zippy
Plank hitbox
The plank hitbox has a really flat surface. It makes it easy to block shots and hit a ball even if you are not in a perfect position. It lists 7 vehicles:
'16 Batmobile
Artemis/Artemis G1/Artemis GXT
Centio
Mantis
Paladin
Sentinel
Twin Mill III
What's the best car in Rocket League?
It is really hard to establish which are the best cars. Rocket League offers a lot of different vehicle bodies such as Scarab, Takumi, Ecto-1, Twin Mill III or Bone Shaker, but how many players so many battle-car lists. While choosing your favorite vehicles you have to take into consideration a lot of factors. Think about your game style and what type of matches you like to play. We do not want to impose our opinion, but we listed 5 rocket cars to help you decide and maximize your game experience.
Octane – it is the most popular car in the Rocket League. Almost every professional player uses this vehicle, they found it the most effective and solid. It is mostly because of its hitbox. Octane is perfectly balanced with all the statistics. Even though you have over 20 vehicles with a similar surface area this one is mainly used by players. Like everything, this vehicle also has some drawbacks. It is quite short which can make it hard to enjoy playing at first. However, the design and overall experience make it irrelevant.
Dominus – it is the second most used car. Dominus has a pretty big hitbox, which makes it more friendly for players. It also gets a bonus point for its design, it looks good with most wheels and skins. Dominus has a disadvantage, it is hard to maneuver. The hitbox also does not fit perfectly to the car model, but only in front of this battle-car. It may take some time to get used to the filling of the vehicle, but there are a lot of users that appreciate the overall experience.
Breakout – it is one of the common cars in the Rocket League. This battle-car is not considered as beginner-friendly, due to its long body. The longest car in the game is mostly useful for advanced players while challenging for the ball. The design is far away from perfect and standing next to other vehicles it loses miserably. It is blocky and does not fit the rest of the bodies. It might not be the prettiest car but the shape makes it easier to hit the ball. So if you do not care as much for the design and more for the playability this car might be for you.
'16 Batmobile – this vehicle has the flattest and the widest hitbox in the game, it is also the second-longest car. It gives you the accuracy to perfectly hit the ball with great power. Because of its wide surface area, the Batmobile is also ideal for goalkeepers. This battle-car is great for playing on the floor but it may get challenging for less experienced players while chasing the ball up the ramps.
Merc – if you just started playing in Rocket League this battle-car will be a good start. It is a gigantic vehicle with a heavy feeling. However, Merc is surprisingly easy to maneuver and even if you do not have the best skills with this car sooner or later you will hit something. This vehicle has the last place on the list only because of its speed. For sure it takes Merc some time to speed up but for newbies, it is a great first choice.
Also Read: Rocket League Fantasy: How to Draft the Best Team?