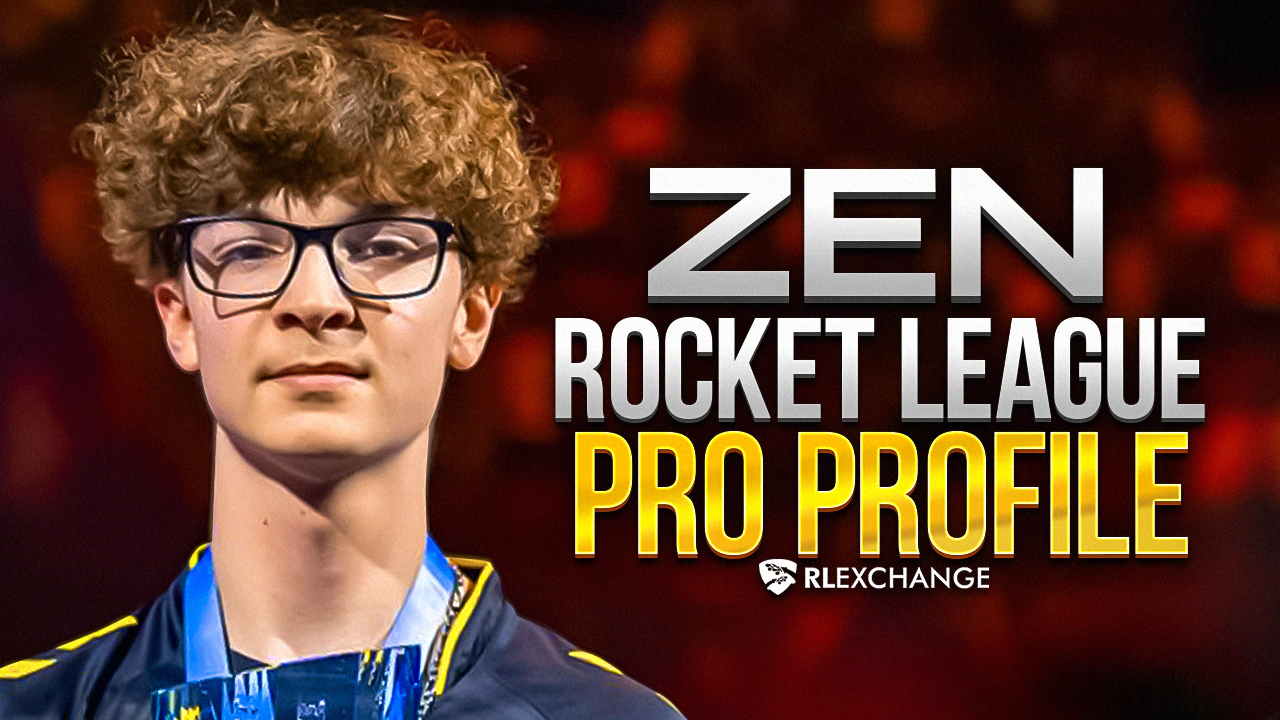 Rocket League Pro Profile: Zen
Rocket League is an action-packed game, where players can compete in short but intense matches and try to top their opposition in a match of football played with high-powered rocket cars. The high-speed gameplay of Rocket League makes it a perfect choice for online gaming, and even better for anyone interested in eSports.
Because of this, Rocket League features a thriving eSports scene, with many great Rocket League teams and gamers competing for huge amounts of money in official tournaments. Today, we'll be looking at one of the best professional Rocket League players, Zen.
As always, remember that if you want to buy Rocket League items for the best prices available, you can do so at RLexchange!
Who Is Zen?
One of the more controversial, but also one of the best players currently in competitive Rocket League, Zen has taken the pro scene by storm, scoring a large number of wins in professional tournaments. One of the youngest players in the history of Rocket League, Zen is possibly the most prospecting player, with all Rocket League fan's eyes turned to him, expecting really big things in the future.
Born in France, 2007, Zen remains one of the youngest players on the pro scene, with some of the most impressive series of wins scored by any player in the game. At the young age of 16, Zen is already one of the top Rocket League players, with high hopes for his professional development in the near future.
Although one of the best players in the history of the game, Zen's career was almost cut short due to one serious controversy – his attempt at entry in a tournament, while being underaged. Although Zen already had impressive Rocket League skills at 15, his attempt to enter the RLCS Spring Split 21-22 netted him a one-year ban from participating in competitive Rocket League tournaments. The reason behind this ban was that Zen had subbed in the qualifiers while being underage, meaning that he was responsible for a breach of conduct.
And while receiving a one-year ban at the very start of your career would curtail anyone's performance, Zen has persevered through this period, sharpening up his skills for a potential return in the nearest future. He did not have to wait long to show off his abilities. Although banned from participating in RLCS, he entered the Urban Series tournament, completely dominating the oppositional and scoring 1st place in Urban Series 2, 3, and 4.
After such an impressive series of wins, Team Vitality has spotted the talent that Zen was and signed him five months before the expiration of his ban. This proved to be an amazing decision, as right after the end of his competitive ban, he went into the RLCS 2022-2023 World Championship, securing the win for team Vitality, and making them the highest-earning organization in the history of Rocket League.
What Was Zen's Winstreak?
One of the reasons that Zen is so popular among players, is that during his RLCS ban, he got to compete in a 1v1 tournament hosted over Twitch by a user called JohhnyBoi, where he went head-to-head with some of the best Rocket League players. Despite his lack of experience in 1v1 Rocket League, he still managed to almost mop the floor with other, more experienced players, scoring a shocking 11 win streak, which was only broken by another pro player, RW9.
What's In Store For Zen In The Future?
Although we can't be quite sure what the future will bring, Zen is by far one of the most prospecting players in Rocket League at the moment, and although he's currently still a member of team Vitality, it's fairly clear that any of the popular Rocket League teams would love to include him on their roster. Zen has one of the most impressive competitive win streaks, and there's no sign that he will be stopping in the nearest future. At age 16, he's also one of the youngest Rocket League pro players, meaning that most likely he has a very bright career ahead of him
Summing Up
Here's a quick profile of Zen, one of the most popular pro-players in the game. If you want to learn more about the pro-scene, teams, or even game settings if individual Rocket League players, be sure to check out the rest of our blog!