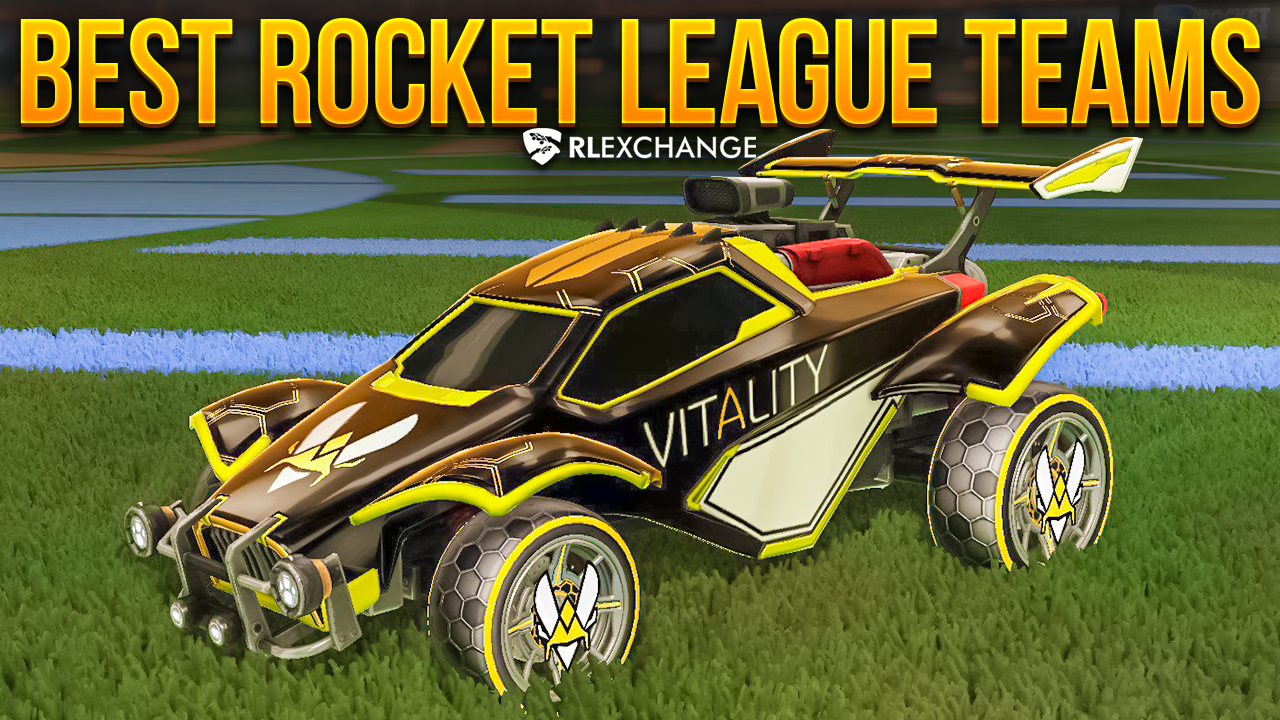 Best Rocket League Teams of 2023
Rocket League is an online competitive game with a very high skill ceiling. Because of this, competitive matches between the best Rocket League players can be an amazing show to watch. Matches between the best Rocket League pros are often epic games, with scores coming close until the last minute.
Like other online games, Rocket League has a highly developed professional scene, where the best players get to compete for hundreds of thousands of dollars. Tournaments like World Championship or Winter Major always attract a lot of viewers, who come to watch and cheer for their favorite teams.
Since Rocket League pro scene really took off, there were many players who went in and out of the pro scene. Here are the best Rocket League teams so far in 2023.
Karmine Corp Roster
Although Karmine Corp Roster struggled in the last year's fall major, they managed to take the RLCS major 22-23 by an absolute storm, scoring some of the best and most impressive wins in the tournament's top 8, as well as two back-to-back regional wins in Winter split. While Karmin Corp Roster might not be at the very top of our list, their players have still managed to rack up some serious victories last season, and so far they're on their way to scoring more wins and possibly taking the first place at Grand Finals.
Team BDS
While Team BDS was off to a rough start in the previous season, they managed to pick up the slack, by stealing some serious regional wins. However, these previous achievements pale in comparison, to their absolutely stunning World Championship performance. In worlds they managed to completely dominate the playfield, with the famous Rocket League player Evan "M0nkey M00n" Rogers leading the team. With their combined strength, they actually managed to go as far as to secure first place in the RLCS 21-22 World Championship. Although the future isn't set in stone, many analysts are pointing to Team BDS being one of the most dominant teams in the following months, and it's almost sure that we will continue to see some big plays from their side.
Gen.G
While the Gen.G team might not be ranked highest for the most wins in major tournaments, this band of Rocket League pro players is still a force to be reckoned with, and you don't have to search a lot to see why. They managed to secure the final round in every Grand Finals tournament to happen. When the team decided to sign Joseph "noly" Kidd this further improved their squad, with six back-to-back appearances in Grand Finals, scoring three wins out of them. While they might not be at the very top, Gen.G is still a solid contender for the best Rocket League players team, and we can expect some impressive performances from them in the future seasons.
Oxygen Esports
Although Oxygen Esports by itself has not had any major wins, the addition of Finlay "rise." Ferguson, who has had some major success in the last season's Spring Major. One of the best Rocket League players, and definitely the most consistent one, the rise had some success in the pro leagues and is set for more major wins in the future. Rise had some serious big tournament performances in the past, notably scoring a win against his past teammate in the previous Fall Major. However, some analysts believe that the rest of his previous squad was holding him back, hence why his switching teams is why everyone expect that Oxygen Esports should have a chance to seriously dominate in the upcoming seasons.
FaZe Clan
FaZe Clan is another one of the pro teams, which despite ma larger success in major competitions, is still a force to be reckoned with. With six regional event wins, as well as a consistent appearance in the finals, FaZe Clan had shown that they are a force to be reckoned with. Jason "Firstkiller" Corral, the leader of the team, is currently considered one of the best Rocket League players in the game, with one of the longest professional careers to date. FaZe might still be treading its waters, but for most, it's clear that this squad will most likely deliver a great performance for all viewers in the nearest future.
In Conclusion
Here are all the best Rocket League players and their teams for the current year. Although this list might be subject to change, most serious game analysts are in agreement, that the teams listed in this article are the ones that will most likely make the largest impact on the Rocket League professional scene in the nearest future. If you ever want to get the same items that your favorite pro player uses in the match, head over to RLexchange, where you can buy Rocket League items for the best prices, always.