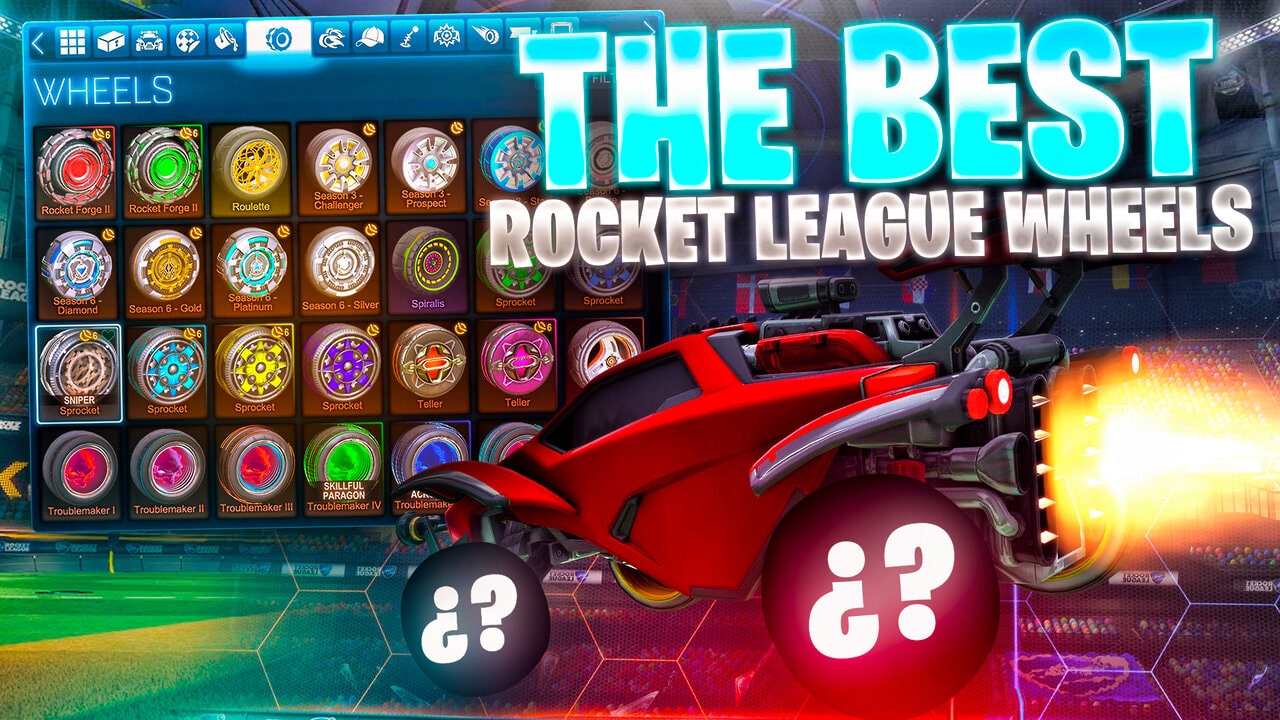 The Best Rocket League Wheels for your Car
Sometimes, to keep the player base filled with content, the developers use different video game techniques. Hence, you could find limited types of events that follow a certain pattern. Indeed, you need to be "present" in the game and obtain exclusive items before the holiday ends. Such "items" that you're able to see take part in adding customizing elements to the game and make it more attractive.
Within Rocket League, you pretty much have the same accustomed events from any other "games as a service" in the current market. First of all, you have the "battle passes or season passes" that increase their levels/rewards when you continue playing in a certain period. Secondly, you have different limited Crates that aim to enhance the number of items over your inventory. Last but not least, different themes like Christmas or Halloween give you the chance to pick different goods related to that holiday.
At the moment, you could gather potential items in your Rocket League Garage From Vehicle's Bodies to enhancing the effects of your boosts, players in this game have a lot of liberty to express their imagination. Some available items allow you to modify the four Wheels with different tires, animated rims, and colors. With these customizing options, you'll drift in the pavement(field) with style. Last but not least, you also have the potential to find popular limited or painted wheels, which may increase their value in the market.
Most noteworthy, to obtain some of these kinds of items, you'll need to follow certain procedures. The Wheels Rocket League becomes difficult to obtain the "rare" (from common to exotic) in the Garage. Therefore, sometimes you'll need to participate in a couple of games in your Rocket League's account or do some trading. Certainly, depending on your platform, you'll see an increase/decrease in the item's value. For example, players over the Xbox tend to find different content a lot cheaper.
Also Read: Rocket League Ranks – RL Ranking System & MMR Explained
Rocket League Garage
This "gameplay" mechanic is probably one of the popular modes that all Rocket League communities seem to follow. Practically, it helps you customize your vehicle and create interesting combinations with your items in the Garage. Indeed, it only counts the unlock items in your account to change your cars' aspects. Therefore, you'll need to use certain "ways" to unlock almost everything and pick what suits you best.
To a beginner, reaching the point of getting all you want in the Rocket League Garage may take a long while. First of all, you have those "free" items that you could obtain by playing the game and increasing your account's level. Secondly, you have multiple goods that require some Credits to unlock and "buy" from the Item Shop. Last but not least, trading with different players may give you an upper hand in this kind of endeavor.
Between all of the possible stuff that you could obtain by playing, you could have:
Bodies: Pretty much the chassis of the vehicle. From common to exotic, you could start the customization with this item. Therefore, you'll need to look for your favorite and continue with other possible items.
Wheels: Change the look of the four tires simultaneously with just one item in your inventory. In this category, you could personalize the rims with special effects as well.
Boosts: Create special effects as you activate your vehicle's boost and make some moves in the arena. Due to the skill's nature, you'll see different effects on your screen, depending on the item.
Antennas: Increase the appeal of your vehicle as you place different items in this section. Furthermore, you have the potential to see some familiar goods from different franchises in this area.
Decals: Give the last touches of your car with amazing painting combinations and astonishing effects all over the chassis. Even though the Exotic Black Market Decals have costly prices, you need to obtain at least one on your collection.
Toppers: Comically add different types of "hats" at the top of your car and increase its likeness. Similarly to the Antennas, you could find different hats from other famous places, from video games to cartoons.
Trails: Leave colorful smoke or different types of effects as you move around the arena with your vehicle. It all depends on how much you like the colors and shapes that you leave on your trail.
Goal Explosions: Give a double insult to your opponents as you add amazing effects after the balls get inside their goal. Similarly to the Decals, from common, limited, to exotic, you have the potential to find something for your needs. Indeed, if you're playing over Xbox, you could find and Goal Explosion with lower prices.
Paints: Increase the appeal of all of your equipped items with the perfect pair of available colors around your car. Depending on your mood, you could either pick between vivid to obscure colors.
Engine Audio: If you think that you had enough with the last sub-groups, well, you can also customize the audio effects for your vehicle. You could find common, premium, or limited types of a rarity in the Engine Audio this time around.
Banners, Avatar Borders, and Titles: Besides the different ways to exchange the way your car looks (and sounds), you also have the potential to change the way other players "look" at you. Therefore, if you obtain any item from these extremely rare categories, the car is just a plus.
Also Read: Rocket League Servers Down Again? Check Current Status
Rocket League Wheels
Between all the constant updates that give us too much content found between season and special holidays, we surely see something new in the Rocket League Garage. We get to see amazing effects and customizing items that every player in the community loves to see when they continue playing. Hence, anything can appear between games from common, limited, to rare, and even exotics. Indeed, there's also the potential to see a new Rocket League Wheel that changes the way our vehicles look on the field.
Each available Rocket League Wheel comes with a new way to represent your tires in the game. Therefore, each selection that you're able to see in the Garage becomes valuable for the community. As a result, getting a good number of your vehicles' options could help you create the best car for your taste.
First of all, to help you gather such a vital element in your Rocket League Garage, on the next rection of the article, we'll discuss the different "types" of Wheels in the game. Secondly, we'll show you different means to gather as many Rocket League Wheels as possible and quickly increase your collection. At the end of the day (or the month), you'll have the potential to gather a lot of common, rare, limited, or exotic Wheels found from a different season and patches. Last but not least, the Xbox community has become one of the largest for the Rocket League game, which means that getting everything in that platform becomes a lot easier.
Also Read: Rocket League Cars List & Their Hitboxes
Types of Rarity for Rocket League Wheels
Every video game in the industry has a "personal" way to categorize every item that somehow changes different parts of the game. In Rocket League, we see this strategy when they try to group different stuff over the Rocket League Garage. Indeed, it all depends mostly on how good the Wheel "looks" and how many effects become associated with the Wheels.
As a result, some common Wheels come with a real-like design that barely changes in color or comes with anything special. While on the other hand, the exotic Wheels are made up with the futuristic Rocket League style and outline colors and astonishing effects.
To clarify the distinction, even more, you have the different Rocket League Wheels according to their rarity:
Common: All of the Rocket League Wheels in this category become easily obtainable as you continue playing. Getting Common Wheels actually requires not that many steps to acquire. By playing the game and completing matches, you'll have the chance to get them all occasionally. Indeed, some commons require more matches than others, but still, it doesn't require a lot of work from your part.
Uncommon, Rare, Very Rare: Unlike Commons, you'll need to acquire some experience in your account and level it up for a couple of times to obtain Wheels from these rarities. Indeed, even though it requires more games within the Rocket League, everything has the potential to be found.
Premium: Suddenly, the developers at Psyonix find the way to add famous franchises in exchange for a couple of bucks. As a result, acquiring Premium Wheels require real money instead of pure gameplay. Still, you'll see Rocket League Hot Wheels in the game and try them if you get the chance. Besides the Hot Wheels Rocket League, you have the potential to see Ghostbusters or even Batmobiles.
Limited: As the name indicates, you can acquire different Rocket Wheels in a period of time. For example, the Limited Apex Wheels became available practically while (between June 2017 through January 2018). Furthermore, to acquire the Limited Apex Wheels, you had to register for Fan Rewards and watched the RLCS on Twitch. Even though it didn't require a lot of effort to obtain, that was the only way to obtain the Limited Apex Wheels. Indeed, even though the event is over, you can still acquire the Limited Apex Wheels by trading with the Xbox community. Another example to obtain any Limited is playing in a particular season and obtaining the rewards you play in that period.
Import and Exotic: to obtain any Rocket League Wheels from this group, you'll need to combine five different items ( you could use some wheels) of the same quality. Furthermore, it only works from Very Rare and beyond. Since it requires a lot of work to obtain available Wheels from these rarities, the prices tend to go high in the game and within the Xbox community.
Painted: Almost every Rocket League Wheel available in the Garage can appear "painted." When this happens, the Wheel tends to escalate in rarity and with their prices. For example, a Common suddenly turns into an Uncommon if there's a "painted" word in between. Furthermore, some painted items tend to have a lot of value over the Xbox community, primarily due to the appeal. As a result, a painted Titanium White Wheel becomes expensive for its appeal, while the Orange Wheel becomes avoidable.
Also Read: RL Insider Alternative – RL Exchange Price List
Ways to Obtain The Best Wheels
Drops: From common, rare, limited, to exotic, you can always acquire almost all of the Rocket League Wheels by playing the game. Still, it may be hard to obtain any kind of Wheel that belongs in the Limited, Import, or Exotic subgroup. Additionally, if you have any Limited or Exotic that looks amazing to you, the chances to obtain the Wheel from drops is extremely low or impossible.
Blueprints: This amazing tool has the potential to increase your collection of Rares, Limited, and Exotic Rocket League Wheels in your account. Indeed, to build every single Blueprint, you'll need to have in-game Credits for it to work. As a result, if you're collecting Wheels by yourself, you'll need extra "real money" to reach that dream. On the other hand, if you search for aid from the community, you have the potential to build Blueprints without spending a cent.
Item Shop: Almost all of the game items can appear in this part of the Rocket League interphase. Similarly to the Blueprints, they require some Credits in exchange for any rare, limited, or exotic Wheel once it becomes available. Likewise, search for aid in the Xbox community if you do not want to spend your money on these Wheels.
Trading: Almost all of the Rocket League Wheels available in the game can be obtainable by trading with other players. If you want to delve yourself into this gaming feature, you need to have some preparations first. Each rare, limited, exotic Wheel comes with a different value for the Xbox community. As a result, search for the current prices on different websites and make some fair trades when you have the chance. If you become a trading veteran, you'll potentially acquire rarest limited and exotic Wheels from a different season.
DLC: Multiple Wheels can appear in your inventory as you obtain the Xbox store's available DLC. Since they usually come from popular trademarks, all of the community welcomes their presence in the game. Therefore if future content becomes available, do not hesitate and get them quickly.
Crates: One of the best means to earn different limited or exotic Wheels for your collection. Indeed, to acquire any Crate like the Golden Egg, you need to play on a special holiday or season. You don't need keys to release its content this time around; open them while you have the chance.
Also Read: Glorifier Rocket League – The Big Blueprint Surprise
Trading over the Xbox Community
If you're starting your journey in Wheel trading, you probably need a special Wheel that can give you lots of credits to spend. To help you with the cause, you should probably start by acquiring many painted Draco Wheels. Sometimes people do not know the value of their Garage and sell these Wheels for cheap. As a result, you should look for easy trades and get those Wheels while you can. Furthermore, when you have enough Credits, you could trade for the limited or exotic Wheels that you like.
For the best available Wheels, you could practically look for any exotic with the Titanium White paint. Furthermore, the community also finds that Reaper Wheels, Gaiden Wheels, Sunbursts Wheels, and Zomba Wheels stand out.
Also Read: Rocket League Black Market Decals Complete Price List