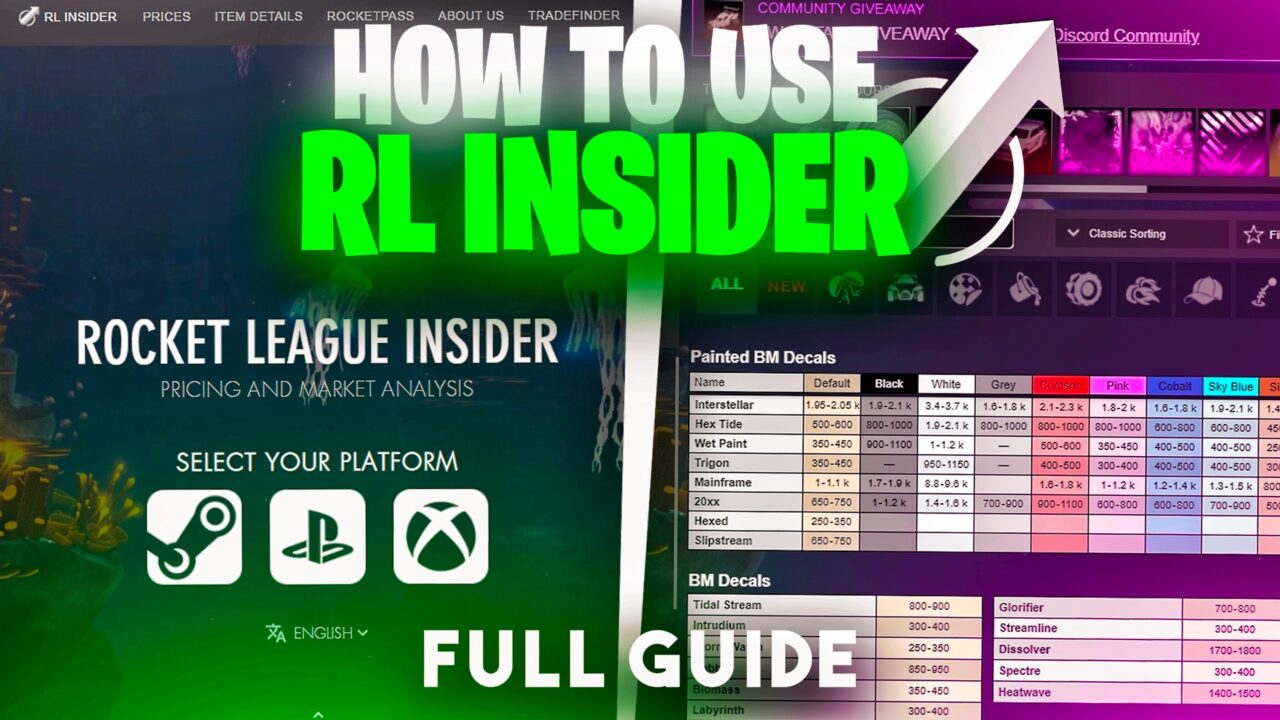 RL Insider Alternative – RL Exchange Price List
Rocket League is full of surprises, from scoring flip resets to buying loads of Titanium White Octanes. However, in order to make the most out of your trading career, you need reliable prices. Don't know where people undergo analysis for items? Instead of using RL Insider, we highly recommend visiting our new and updated item list for PC, PS4, Switch and Xbox.
Also Read: Fennec Rocket League – The Car of Choice
RL Insider vs RL Exchange
In 2020, loads of scammers are running wild within the market. To combat this, Rocket League Insider and Rocket League Exchange has granted detailed prices for items. With the introduction of multiple item sheets, there is now the option to double, triple, or quadruple check prices. Below, we will be covering the similarities, differences, and final thoughts between Rocket League Insider and Rocket League Exchange.
Similarities
Both RL Insider and RL Exchange offer a one-stop pricing sheet for aspiring traders looking to sell their items. They include a variety of different items with careful analysis of the market. Both RL Insider and RL Exchange are updated frequently as of 2020, providing easy contact to either support system if people need it. At the same time, either website offers PC, PS4, and Xbox prices as well, excluding Switch.
Differences
Here is our opinion on how these portals Rocket League Price Lists compare to each other.
RL Insider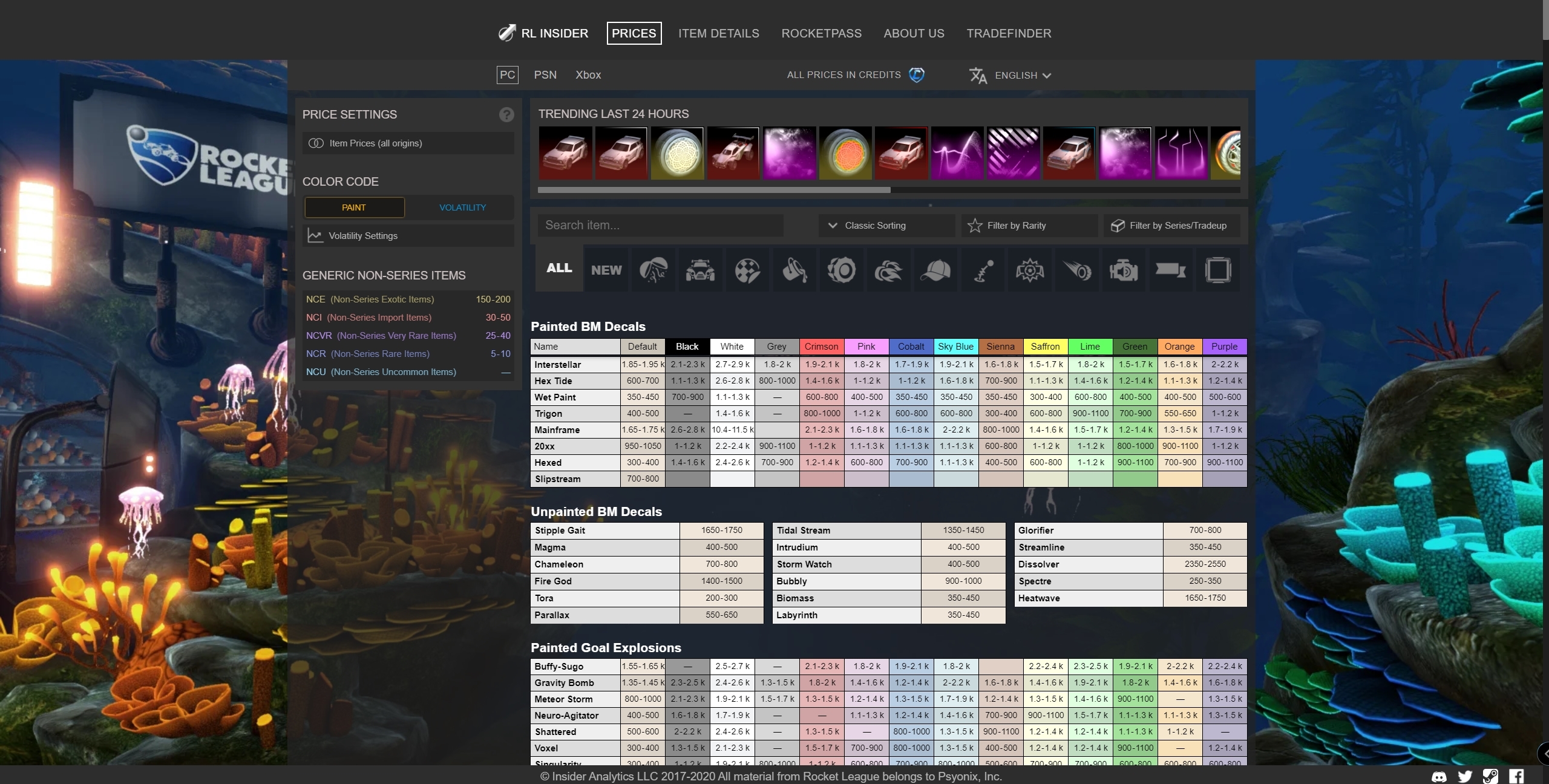 At first glance, Rocket League Insider displays a different organized pattern to account for 100 to 1,000 prices. At the top of the screen, the user is given five different options, known as Prices, Item Details, Rocket Pass, About Us, and Trade Finder. Although the rest aren't as common as the Prices category, they are just as useful to people in the community. Also included is a search bar, which Rocket League Exchange does not include. This is helpful to pinpoint exact prices for a specific item. When hovering items, the user is given three different prices, which are for PC, PS4, and Xbox. Unfortunately, neither website offers Switch pricing but after further analysis, we are certain Switch prices will get into the light in the near future. Both Insider and Exchange obtain their fair share of traffic that is above average, along with a close gap in popularity.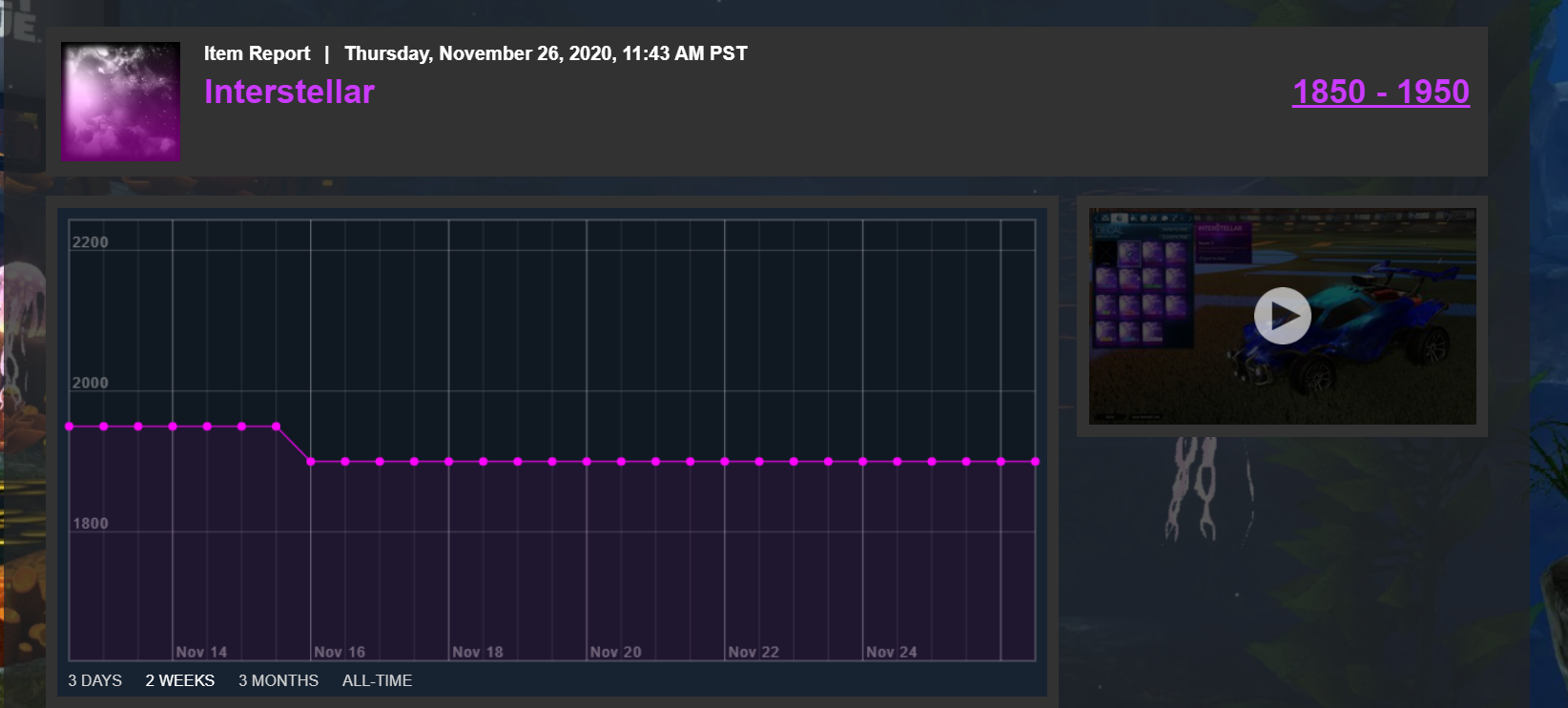 Rocket League Insider also shares a detailed analysis on how this Interstellar Black Market Decal has been doing overtime. As seen in the image above, users are able to get key metrics on the market for either PC, PS4 or Xbox. This is a major difference between both websites, as Insider offers more details compared to Exchange.
Also Read: The Most Popular Decal – 20xx Rocket League
Additionally, Insider offers further analysis with the extended information towards the bottom right of their website. Above, recently updated metrics are shown. Here, a user is able to keep track of updated item details along with being able to identify what items are being sold at what prices by other traders. This is beneficial for determining what to offer for your wheels or decals as low balls are apparent within the trading community.
RL Exchange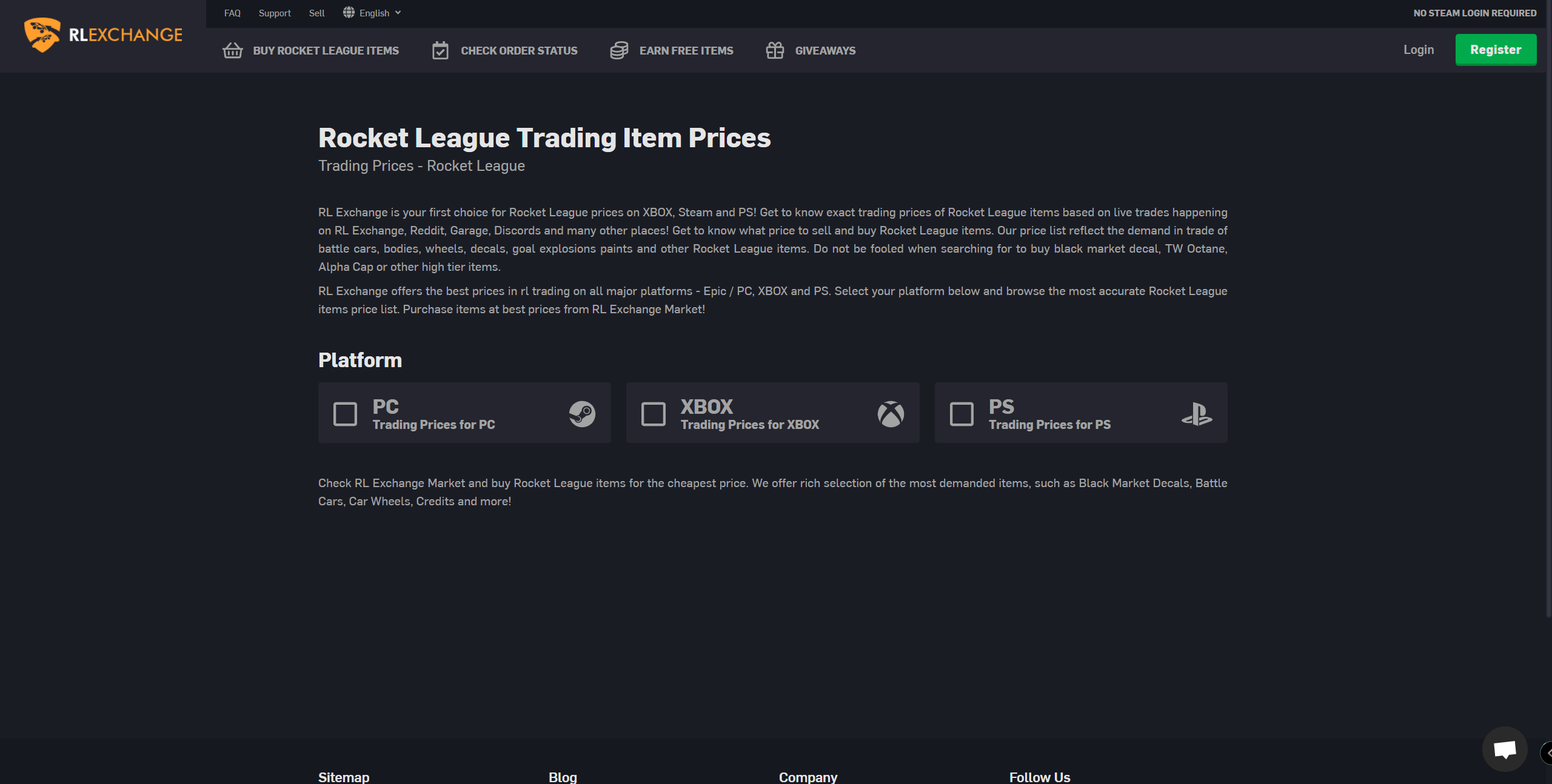 Unlike RL Insider, Rocket League Exchange displays a much more simplistic yet organized approach. When initially loading up the website, the user is greeted with the choice to choose a platform pertaining to what they play Rocket League on. After determining a platform, using the given categories, the person using the site can make the appropriate selection as to what they want to buy/sell their item for. However, unlike Rocket League Insider, there is not an opportunity to search for items which would make actually finding it bit more difficult. In terms of pinpointing items for a customer, Rocket League Insider exceeds in this category. Yet, ease of use goes to Rocket League Exchange as their individual images for items are much easier to comprehend. Regardless of this slight disadvantage, Rocket League Exchange proves to be dominant over Rocket League Insider.
Also Read: Rocket League Fantasy: How to Draft the Best Team?
What is Rocket League Exchange's Price List?
Rocket League Exchange's item list transforms the demand in the trade of battle cars, bodies, wheels, decals, and goal explosions into updated prices. It offers the best prices within the Rocket League market on all major platforms – PC, PS4, and Xbox. Instead of not knowing what to buy and sell your items at, Rocket League Exchange helps fix that by offering updated and accurate prices.
Consider this example: I, an aspiring trader hoping to make a profit, want to buy white zombas but I have no clue where to start. One of my friends were kind enough to share Rocket League Exchange's item list so that I would know how many credits to pay for white zombas. By doing this, my trade is secured and safe since Rocket League Exchange updates their prices frequently.
Also Read: Heatwave – First Rocket League Black Market Decal
How do I use RL Exchange's Price List?
In order to use Rocket League Exchange's item list, you first need to be familiar with how the market works. Rocket League Exchange obtains its prices through careful market analysis with PC, PS4, and Xbox, or to put it simply: Supply and Demand.
In this case, supply is the quantity in which items are available on the market. For instance, if there are a lot of Titanium White Octanes currently circulating, then the value of a Titanium White Octane on Rocket League Exchange would decrease. However, if there are fewer Titanium White Octanes, then the value would increase (and vice versa with demand).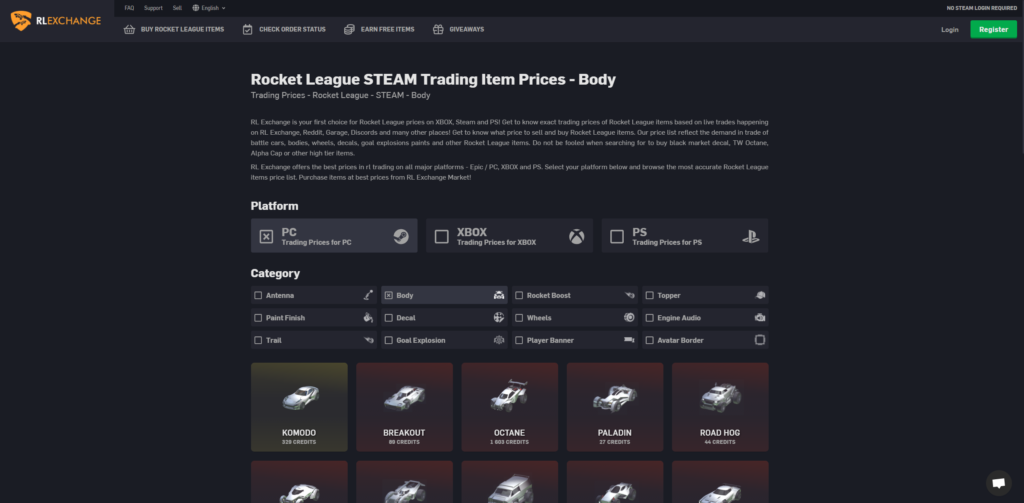 Having said this, if you want to utilize this tool efficiently, you need to comprehend what you're looking for and how the market is doing. RL Exchange is easy to use and fairly self-explanatory, but in the image below, you are given the option to choose whichever category suits your needs.
Also Read: The Best Rocket League Wheels for your Car