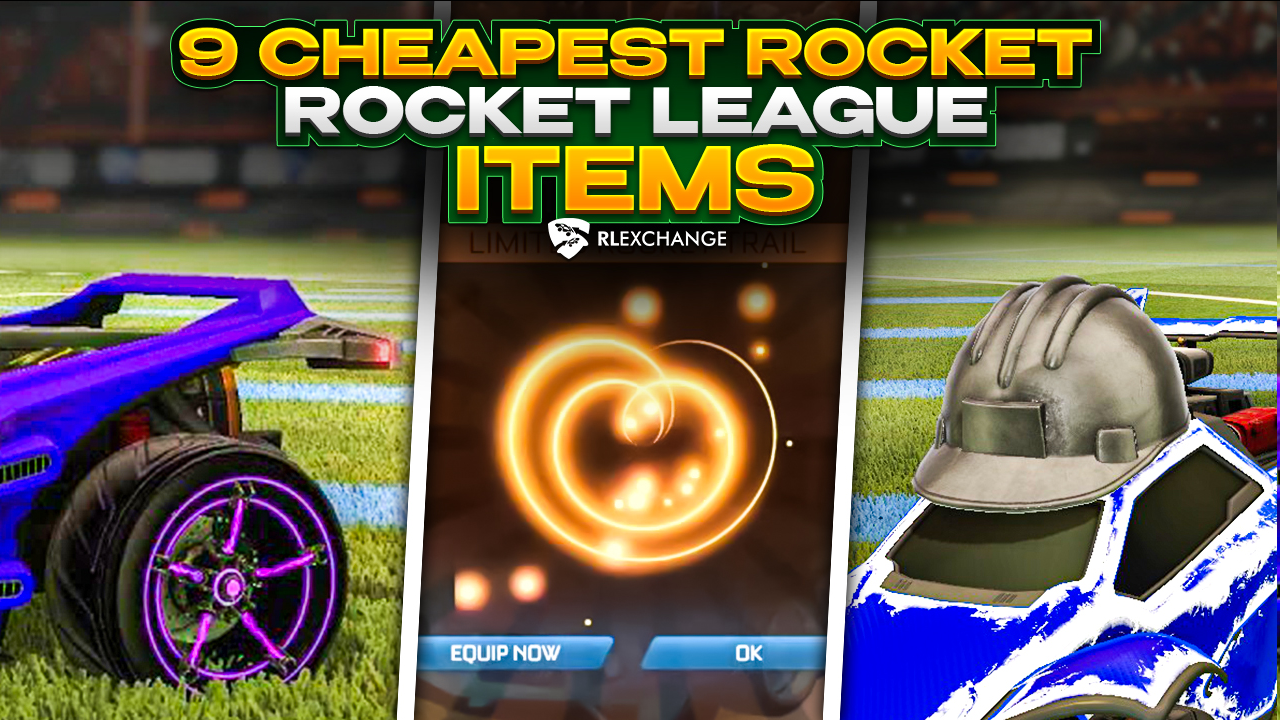 Top 9 Budget-Friendly Rocket League Items
Rocket League players love the different cosmetic options that the game offers. You can change almost every detail of your car and all the different effects connected to it, such as boosts or goal explosions. Because of this, there is an entire economy of Rocket League items for sale, with some of the being worth thousands of dollars in Rocket League credits.
However, you don't need to spend that much on Rocket League items to look good in the game. Although many Rocket League items can be absurdly expensive, especially those that were given out as rewards to Alpha testers, you can still buy cheap Rocket League items, if you know what you're doing.
If you're looking to buy Rocket League items without spending a ton of credits, this guide is for you. Here are some of the best AND cheapest Rocket League items you can get to improve the design of your battle car.
Titanium White Holosphere Wheels
Rocket League wheels are one of the more expensive equipment slots for your battle car. This goes double for any Titatnium White Rocket league items, as most of them are among some of the most expensive items (Titanium White Octane, for example).
This rule, however, doesn't apply to the Titanium White Holosphere Wheels. It's one of the cheapest items in Rocket League and while the price may vary on different platforms, you should still be able to buy a set of these wheels for lower than $1, or about 80 RL credits.
Ballistic Goal Explosion
Goal explosions are some of the most visually impressive Rocket League items. After all, their main point is to attract the attention of players in the match. The Ballistic goal explosion is one of the best Rocket League items, if attracting attention is your 'goal'.
There's no way to miss the moment when someone scores with this goal explosion equipped, as the ball will explode into hundred versions of it, quickly spreading over the field and disappearing. If you're not afraid of your frame rate dropping with goal explosions like these, you can get this item in your Rocket League inventory through trading with other players. If you do, it can be bought for around 50 credits, or about half a dollar.
Casette Wheels
The Casette wheels are famous for being one of the cheapest Rocket league items. Available at a whooping price of 20 credits, you can easily get these exotic wheels via Rocket League trading.
While it might seem like on a surface there isn't a lot going on for these wheels, as the title suggests, they look like casette spools. Although visually simple, for it's cheap price Casette wheels can give some nice details and work as a finishing touch to any vintage Rocket League design.
Dot Matrix Animated Decal
Rocket league decals are a type of sticker, which you can put on your battle cars to customize their design to fit your liking. The animated decals, however, are Rocket League items in an entire league of their own. When you put an animated decals on your car bodies, the animated effect will be visible to all the players in the match.
While most animated decals are quite expensive, only a selection of them can be bought for a cheap price. The Dot Matrix animated decal is one of the cheapest animated decals you can get in Rocket League. When you equip it, a set of constantly shifting dots will cover your car, giving it a trippy effect. You can get this animated decal for about 100 credits, but you can most likely get it cheaper through Rocket League trading.
Fennec Huntress Decal
Most players are already familiar wit the fan favorite Rocket League item, the Huntress decal for Fennec. This stylish decal not only makes your Fennec look great, it's also one of the cheaper RL items, which is also popular among players. You can get this decal for 100 to 150 credits.
The Huntress decal gives you Fennec a sleek but deadly look. This decal is a perfect piece for anyone who's looking for cheap Rocket League items for sale.
Tora Decal
The Tora decal is one of the cheapest black market decals you can get your hands on at the moment. You can get this decal by Rocket League trading for about 70 to 150 credits, depending on the platform.
A straightforward Rocket League item, the Tora decal will give your car a look inspired by predators such as Tigers. If you decide to buy this decal, try experimenting with different colors, as this can lead to some visually amazing results.
Infinium Wheels
The Infinium wheels are quite popular with Rocket League players, as they look great with any bright and neon car design. Looking like something straight out of Tron or other sci-fi movie, if you're going for a car design that will look more futuristic, the Infinium wheels will definitely give your vehicle some extra points in the looks department.
Best part? You can get this item for as cheap as 70 credits, depending on your platform. If you happen to be collecting RL items that can make your car look like something out of the next century, the Infinium wheels.
Ruckus Trail
This trail will be a great choice for any car design that focuses on red, fiery colors. The Ruckus Trail will cause your car to leave glowing red skid marks in it's path.
Rocket trails can be quite expensive in the game, since most of the time they are either completely invisible, or super flashy, which in turn causes many players to want the item, rising it's price in the process. Thankfully, the Ruckus trail is a perfect middle ground between cheap and good looking RL items. You can buy this trail for about 70 to 90 Rocket League credits.
Ombre Decal
To finish off the list comes another popular Rocket League item – the Ombre decal. Although it's the most expensive item on this list, you can still get it from 100 to 150 Rocket League credits.
If you want your car to stand out in online Rocket League matches between all of the bright and flashy effects, the Ombre decal will let you do just that. Working best with neon colors, the Ombre decal can make your car look colorful and bright. The best part of this decal is that it gives you a huge opportunity to experiment with different colors. This decal looks great with almost all color combinations, so you can just let your artistic side out and choose whatever suits you, it will almost always look great with the Ombre decal.
Where To Buy Rocket League Items For Low Prices?
There are many different ways players can get cheap Rocket League items. You can use the Rocket League trading system to buy the items from other players, or craft the using Rocket League blueprints. However, this can take a lot of time (or luck, if you're crafting), so if you want to get these items with instant delivery, you will have to use some form of a Rocket League trading platform.
If you're looking to sell Rocket League items or invest in some new looks for your car, you won't find a better trading platform than RLexchange. Our website offers some of the lowest Rocket League prices on the market, making it your best choice to buy Rocket League items for low prices. RLexchange is the best Rocket League trading website, offering instant delivery of the purchased items, as well as additional security to our users. If you want to buy cheap items without getting scammed, head over to RLexchange and get your items today.