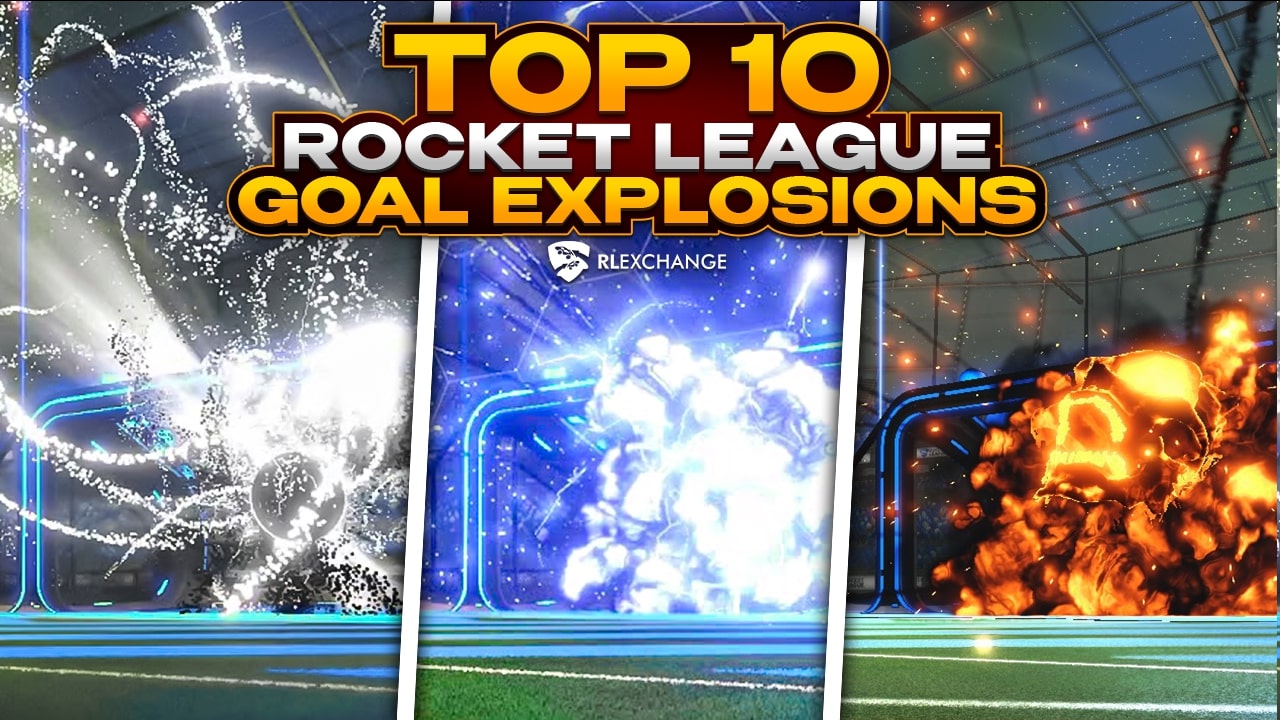 Top 10 Rocket League Goal Explosions
If you've ever played Rocket League (and since you're here, we're assuming you might've even played it more than once), then you surely know what a great feeling it is to score a goal. You also probably know that there's a way to make the goal-scoring experience even more awesome. We're talking, of course, about Goal Explosions. Today, we'll not only provide you with a list of the top 10 Rocket League Goal Explosions but also tell you everything you need to know about them. Get ready to take your Rocket League experience to a new level.
What Are Rocket League Goal Explosions?
Before we show you a list of the best goal explosions, let's explain what they actually are.
Rocket League is a game that provides players with many different ways of customizing their inventory elements, Goal Explosions being one of them.
As we mentioned already scoring goals is not only the main goal (pun fully intended) but also the best part of the game. It's no wonder Goal Explosions are so popular among Rocket League players, as they add extra visual effects to that very moment. They actually explode between the goalposts right after a goal is scored. Not only is this a great way to celebrate your triumph, but also to show off your items to other players in the arena.
How to Get Goal Explosions in Rocket League?
There are many ways to get Goal Explosions. You can earn tournament credits and then buy them, get them through trading, or even redeem special codes that unlock them.
The Best Goal Explosions in Rocket League
Ok, so you already know what Goal Explosions are, how to get them, and what to use them for. Now all you need is a compilation of the best Goal Explosions in Rocket League so you can add them to your inventory and then show them off in the arena. Fortunately, we've got you covered.
Reaper Goal Explosion
The Reaper is perfect for lovers of all things spooky and scary. It is part of the Haunted Hallows series, released in December 2019. Its black-painted version is actually the most expensive Goal Explosion in Rocket League. Why? Well, if you use the Reaper, you can expect a dark phantom to fly out after you score a goal. Then, in an act of triumph, the ghost will perform nothing less than…A Dab! This may be a bit too 2014 for some, but most players still love this effect and are always eager to use it in the arena. All versions of the Reaper are hugely popular in the Rocket League community.
Paper Dragon Goal Explosion
The Paper Dragon Goal Explosion is a black market rarity that is both a great tribute to Chinese New Year celebrations and a very cool Rocket League item. After all, what could be better than a giant dragon made of paper that suddenly flies out of the gate as you score a goal? Exactly! Nothing! No wonder players are always on the lookout for this specific skin. It is worth noting, however, that the Paper Dragon cannot be traded. It is an item shop exclusive.
Night-Mare Goal Explosion
If you are looking for a real show-stopper in the world of Rocket League Goal Explosions, then the Night-Mare is the one for you. This item made its first appearance in the game in 2021 and is thought to be a true masterpiece of the gaming world. The moment you score a goal, Night-Mare takes the form of a fiery horse standing on two legs, and triumphantly pounding its front hooves. Such a Goal Explosion is sure to make waves in the arena. In order to enjoy its full effect, we recommend trying all the various painted versions of this item.
Hot Wheels Goal Explosion
This Goal Explosion is kind of a legend among Rocket League enthusiasts. Players who have been playing the game for several years say they have never once seen it in an arena. Yet the Hot Wheels Goal Explosion really exists and is quite a treat for all fans of the iconic toy series. The truth is, however, that it is very rare, as the only way to get it was to buy a physical set from Hot Wheels and then use the special codes that came with it to redeem the actual Goal Explosion. It is a very limited edition item, so encountering it in the arena borders on a miracle.
Hades Bomb Goal Explosion
It's true that the Hades Bomb won't suddenly make a fiery horse or a dark morgue fly out from the gate, BUT it is still sure to impress everyone in the Rocket League arena. This particular Goal Explosion will cause a bomb to explode immediately after you score a goal. What a way to seal your triumph! This is a great option for the true fans of the classics, who still feel like showing other players who's boss (but in a subtle way). The Hades Bomb Goal Explosion is available in all painted versions except gold. Unfortunately, it cannot be purchased in the Item Shop.
Air Strike Goal Explosion
With Air Strike Goal Explosion, it's not just the ball that will hit the gate when you score a goal. Immediately after it, the gate will be flooded by a wave of rockets that were sent by… someone – in order to seal your triumph. This item was released in 2021 and belongs to the black market category. It can be both bought and traded. On top of that, it is available in all painted versions except orange and by using it, you are sure to put on quite a show in the arena.
Atomizer Goal Explosion
The Atomizer Goal Explosion is a real treat for all the nerds and physics fans out there. This item will make your goal momentarily turn into a bunch of atoms spinning around the goalposts. With it, you are sure to light up the entire arena. So, if your wish is to make waves among all the science enthusiasts in Rocket League, this goal explosion is the one for you. The Atomizer is a part of the black market category and you can get it both in the item shop and on reputable trading sites (which is usually cheaper).
Jurassic World T-Rex Goal Explosion
This one is for sure a fan favorite. As part of the Jurassic World DLC bundle, the T-Rex Goal Explosion made waves among Rocket League players. It was available for a few days only in 2021, and then again in 2022 for pretty much the same amount of time. It is an extremely rare item that will make your goal that much more impressive. The T-Rex seals your triumph by having the biggest and most powerful dinosaur (or his head, to be exact) appear in between the goalposts. Unfortunately, it is not a widely available item, but anyone who has managed to add it to their inventory can consider themselves the master of the arena.
Meteor Storm Goal Explosion
Any more space fans out there? Well… We have something just right for you! The Meteor Storm Goal Explosion was first added to Rocket League in 2020 as part of the Ignition series. At first, it may seem a bit less exciting than some of the other items on our list, BUT it is actually one of the most powerful Goal Explosions in the game. After scoring the goal, the Meteor Storm will make a literal storm of meteors fall between the goalposts. Talk about ending with a bang.
Popcorn Goal Explosion
Last but not least, we have something for all the Rocket League jokesters. Popcorn Goal Explosion was first introduced to the game in 2017 and has since become a hit among the more playful side of the Rocket League community. What this item does, is make a bunch of popcorn explode in the gate right after you score a goal (yes, exactly like your microwave). The effect of making everyone in the arena laugh is guaranteed. Keep in mind that this Rocket League explosion is not available in any painted version, except the basic one. However, if that doesn't bother you then go get it today!
Conclusions
Rocket League Goal Explosions are a great way of adding a personal touch to your in-game triumphs. Now that you know the best ones, go ahead and add them to your inventory. The RL.Exchange Shop is full of them, ready for you to discover!