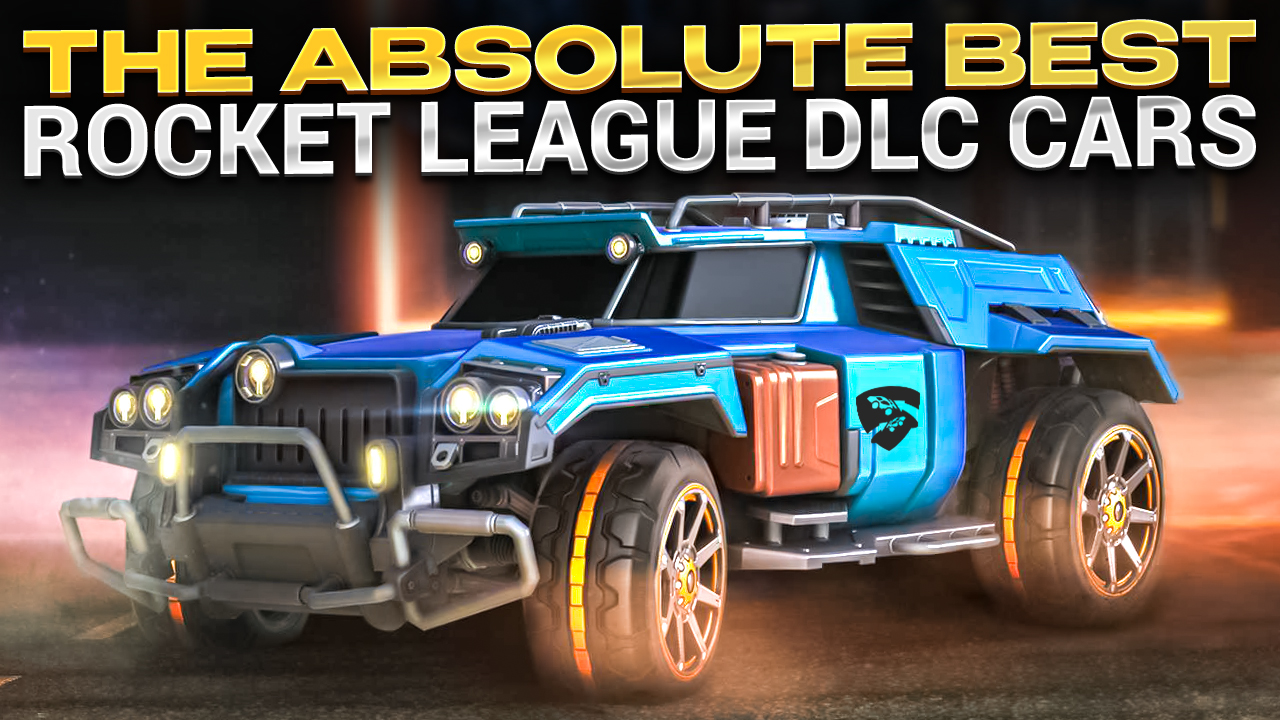 The ABSOLUTE Best Rocket League DLC Cars
Needless to say, Rocket League is one of the best games in the world. Psyonix, and then Epic Games, have made a huge impact on the gaming community over the years, which has also allowed them to make hundreds of cool collaborations. Some of them have resulted in the most legendary cars ever to appear in the arena. This is why today we're going to introduce you to the top 5 vehicles that came with an RL DLC pack.
Introduction to Rocket League's DLC Packs
Who doesn't like a good DLC? Gamers adore it when a developer adds new content to their favorite game, because then they can improve their experience with a given title, no matter how much they've already played it. Rocket League is an expert in this area.
As the game's popularity grew, Psyonix (later Epic Games) was able to create better and better projects with some of the most renowned IPs in the world. This included popular movie franchises, toy companies and many others. In this way, both the game and its partner benefited by introducing each other to new audiences. Each person could find something they liked about Rocket League, whether it was a car, a set of wheels, or simply a new player banner.
What was the first ever Rocket League DLC?
The first DLC add-on for Rocket League was the iconic Supersonic Fury Legend. It was released on 2015-08-13, and its content included:
2 Battle Cars:
6 Decals for Each Car:
Dominus
Flames
Scoprions
Skulls
Stipes
Tats
Wings
Takumi
Chases
Copycat
Crazy-8
Gaki
Reiko
Stiper
5 Paint Finishes
Brushed Metal
Carbon Fiber
Metallic Pearl
Pearlescent
Wood
2 Rocket Boosts
Burnout
Nitrous
2 Wheels
Cristiano
Spinner
That's a lot for one bundle, especially by today's standards. A lot has changed since that first DLC came out, but anyone would have to admit that Supersonic Fury paved the way for many iconic partnerships that were to come in the following years.
What are some of the best Rocket League collaborations?
Since we're talking about IP, collaborations and so on, it would be nice to point out some of the coolest partnerships that Rocket League has made over the years with the world's most famous brand. Of course, not all DLCs are brand-related, but we'd like to mention just a few projects of this type to show what power Epic Games has.
Rocket League and Fast & Furious
Rocket League and the James Bond franchise
Rocket League and Back to the Future
As you can see, Rocket League has a long history of fruitful DLCs and collaborations with huge IPs. However, some of them were born only as a brilliant idea of the game developers. In fact, these types of projects resulted in the most legendary RL cars.
What are the best Rocket League DLC cars?
Now that we've covered all the bases, here's a list of our favorite DLC cars that have ever appeared in Rocket League.
Remember, if you want to get any of them, or equip yourself with accessories for them, be sure to look at RL.Exchange to buy Rocket League items at the best prices and improve your collection.
Dominus
This car needs no introduction. After its release in Supersonic Fury, the Dominus became one of the most popular cars in the entire game, a status it remains to this day. Its true inspiration is the 1969 Pontiac GTO, while in the game it is modeled after one of the most reliable hitboxes – the Dominus. If you are somehow not yet familiar with this vehicle, you should get acquainted with it quickly, because no professional Rocket League player has managed to get where they are now with the help of this good old car.
Scarab
Scarab is loved by many, however, it is also probably hated by many more. This goofy-looking car has become a meme of sorts in the Rocket League community, but still, no one can deny its cult status. It was initially introduced in the DLC Revenge of the Battle-Cars, which was released in 2015. (To be fair, it was even available in the good old Supersonic Acrobatic Rocket-Powered Battle-Cars, but we doubt anyone cared). That makes it an Epic Games classic, and while many may have scoffed at it over the years, we're sure they'd still miss it if it ever left the game's garage.
Jeep Wrangler
We're pretty sure Rocket League is full of Jurassic Park fans, so we couldn't leave this car off our list. The Jeep Wrangler will forever be associated with the iconic movie series telling the story of humans trying to bring Dinosaurs to life and make them a source of entertainment (as we all know, it didn't go as planned). Granted, you probably won't be running away from any reptiles in it, but it still looks badass and does quite well in the arena. After all, it does use the Octane hitbox. The Jeep Wrangler was introduced to the game in 2018 as part of the Jurassic World DLC pack. Unfortunately, it's a limited edition item, but nevertheless, we can't imagine Rocket League World without it.
Grog
Grog is a similar case to the beloved Scarab. It's a small car that's a bit goofy, but at the same time, it performs quite well and has a special place in the hearts of many players. Moreover, if you look at it from the front, it resembles a frog (really, we're not kidding). Whether it's because of its reptile-like appearance or its meme-ability, this vehicle has certainly made Rocket League history. Like Dominus, it first appeared in the game in 2015 with the Chaos Run DLC pack. Now imagining the game without it would not only be difficult, but probably painful.
Aston Martin
To begin with, we must emphasize that not just one Aston Martin, but three Aston Martins are available in Rocket League. And while we would like to talk about all of them, we know that this is not what our article is about, so we will only talk about our favorite, the Valhalla model. This iconic vehicle appeared in the game in 2021 with the Aston Martin Valhalla 007 package, and do we even need to say more? This car was driven by the most legendary spy in the history of the world! Who wouldn't want to add it to their garage? Moreover, it looks incredibly cool AND uses the Dominus hitbox. No other film collaboration can compare to this iconic design.
Conclusions
The Rocket League has created a number of iconic collaborations over the years, a huge portion of which have been created in partnership with iconic films, and these types of huge brands. If you haven't yet familiarized yourself with the best of them, be sure to take a look at this article, then head over to RL. Exchange and snag the items at the lowest prices.