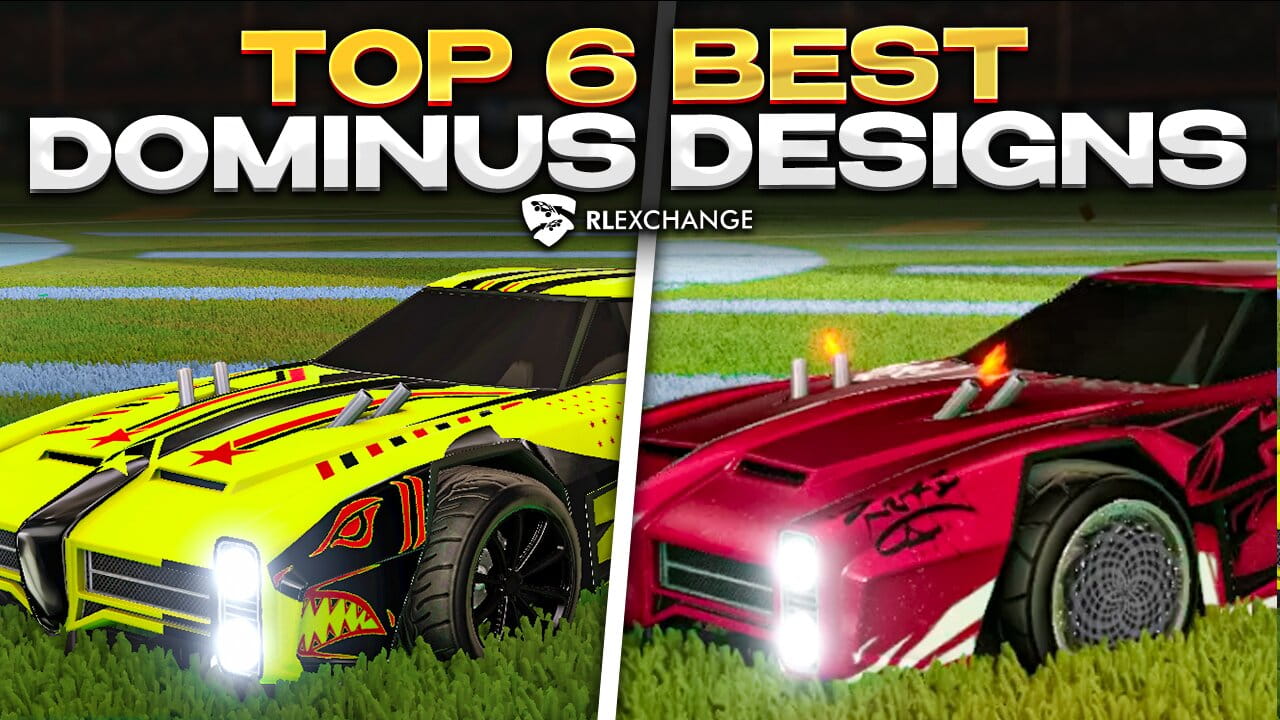 6 Best Dominus Rocket League Designs To Impress Other Players
There is no denying that Rocket League skins, especially those of higher rarities, are collected by players to impress others in online match. The game features many different cosmetic options, such as different decals, cars or wheels for the players to customize their look. Rocket League players can pimp out their vehicle to their own liking, having pretty much a free hand at what it will look like. As players can trade or buy extra visual skins, they have a wide selection of possible looks for their cars.
Dominus GT is by far one of the all time favourite and popular Rocket League cars, staying relevant since it's release in 2015. Although initially available only to the owners of the Supersonic Fury DLC pack, Dominus GT has been made available to every player for free and is now one of the most popular cars in the game. Loved by pros for it's effective hitboxes, you will most likely encounter Dominus often in your online matches.
Although everyone has access to Dominus, this doesn't mean that you have to look like everyone else. While looks are a matter of preference, here are the best 6 Dominus designs that you can use to stand out from other players using Dominus in their matches:
Grim Reaper
This Dominus design mostly includes black as well as other dark colors. If you feel like your opponents might not want to accept their defeat in a match, a visit from the grim reaper at every goal explosion with this design will drive the message across and let them know they're not welcome on your Rocket League field.
Body: Dominus (Black)
Wheels: Pyrrhos inverted
Decal: Bedeviled
Goal explosion: Grim Reaper
1st Paint Finish: Metallic Pearl
2nd Paint Finish: Anodized
Antenna: Skull
Red Mustang
This stylish Dominus design uses the night mare goal explosion, painted red to fit with the other contents of this design. The red color, combined with flashy effects will let you stand out from other players using Dominus in their rocket league matches, ensuring that they will never miss you scoring a goal.
Body: Dominus (Crimson)
Wheels: Cog
Decal: Fire God
Goal explosion: Night mare
Rocket Boost: Termal
1st Paint Finish: Brushed Metal
2nd Paint Finish: Glossy
Trail: Friction
The Dragon
Rocket League boasts a number of dragon-themed cosmetics. This black-painted Dominus design uses the dragon decal, compared with other items featuring this mythic beast and fire themes to make your car look like a dragon out of fantasy.
Body: Dominus (Burnt Sienna)
Wheels: Draco
Decal: Dragon
Goal explosion: Tactical Nuke
Rocket Boost: Gold Rush
1st Paint Finish: Dragon Scale
2nd Paint Finish: Croc
Trail: Hot Rocks
Golden Graffiti
This Dominus design has one, important advantage – it looks expensive and flashy, but you can actually buy most pieces of this design cheaply in the Rocket League item shop or through trades with other players. Most of the items listed have low prices, so if you're trying to save money while looking fresh, this is the design for you.
Body: Dominus (Gold)
Wheels: Tunica
Decal: Stripes
Rocket Boost: Sacred
1st Paint Finish: Anodized Pearl
2nd Paint Finish: Matte
Trail: Delorean Time Machine
Horned Devil
If dragons or the grim reaper are not your things, but you want your Rocket League car to look threatening, this design is a perfect choice for you. Colored black and red and sporting a large part of horns, this design will give your Rocket League car a devilish look. Best part? Some of the crucial parts of this design you can purchase from the item shop.
Body: Dominus (Black)
Decal: Dot Matrix
Wheels: Tremor Inverted
Rocket Boost: Flamethrower
Goal Explosion: Hellfire
Topper: Devil Horns
1st Paint Finish: Croc
2nd Pain Finish: Dino
Silver Chrome
For the players who want a more 'basic' look for their Rocket League car, this silver chrome design will be a great choice. While it's not very flashy or extravagant, this simple design still attracts looks due to its stylish look.
Body: Dominus (Grey)
Decal: Ombre
Wheels: Reaper
Rocket Boost: Sacred
Goal Explosion: Poly Pop
Topper: Halo
1st Paint Finish: Anodized Pearl
2nd Paint Finish: Metallic
In conclusion
Rocket League gives players a lot of space to show their creativity via custom designs. If you liked any of the designs above, remember that you can buy these and other popular skins on RLexchange. Our website offers services for Rocket League players looking to buy skins at the best prices, with zero chance of scamming or fraud.