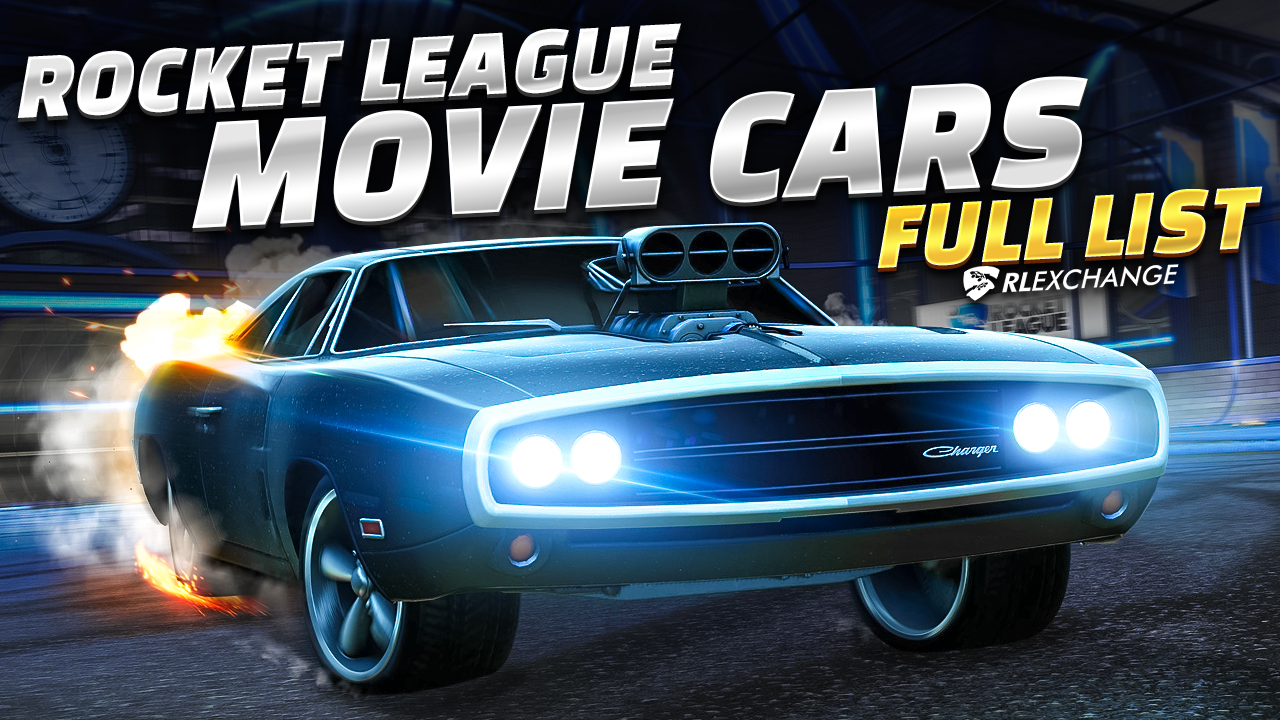 Rocket League Movie Cars: Full List
Rocket League is one of the most popular online games in the world. It has been on the market as we know it since 2015, and in that time has launched a number of huge collaborations with some of the biggest IPs. The result is a massive selection of exclusive items, including a number of iconic cars that we've seen many times on the big screens. That's why today we've compiled for you a full list of movie cars that are (or were) available in RL.
All About Rocket League Collaborations
Psyonix, and later Epic Games, always wanted Rocket League fans to be able to enjoy the highest quality content. The developers knew that the best way to sustain excitement around the game was to regularly add new items and run fun promotional campaigns. In addition, as the game's popularity grew, famous brands from around the world began to take an interest in it, knowing that it could help them reach a larger audience. That's how Rocket League's numerous collaborations with major products and IPs from around all over the globe came to be. We are talking about giants such as McLaren, Fast and Furious, Lamborghini and many others. Everyone wanted access to the 90 million people who launch the game every month.
As for the world of cinema, many of the iconic productions decided to create a joint project with Rocket League as part of campaigns to promote their latest films. The creators hoped that by incorporating their products into the gaming world, they would attract more people in front of the big screens. Needless to say, they succeeded.
The movies gained a larger audience, and Rocket League players were able to drift around the arenas in some of the most iconic cars in cinema history.
The Best Movie Cars in Rocket League
Let's now go through each one of these amazing vehicles.
Batman's Batmobile
The Batmobile is probably one of the most recognizable cars in automotive history. Its owner, billionaire Bruce Wayne, is known not only for running around Gotham at night in a big bat costume, but also for his love of gadgets, the result of which is, among other things, this ultra-futuristic vehicle. As for its depiction in Rocket League, DC has scored a total of as many as 3 collaborations with Epic Games. They led to the creation of 3 bundles, all of which entered the Item Shop in 2018. These were:
the Batman v Superman: Dawn of Justice DLC
the DC Super Heroes DLC Pack
The Batman 2022 Bundle
Each of these bundles featured a different version of the Batmobile. Namely:
Batmobile (2016 version)
Batmobile (1986 version)
The Dark Knight's Tumbler
Batmobile (2022 version)
Our favorite is the version that came with the Batman vs Super Man DLC pack, but that doesn't change the fact that all 3 of them look great in Rocket League arenas.
Nissan Skyline GTR from the Fast Saga
The Fast and Furious film franchise is a real treat for all automotive fans. There is nothing more fun than watching the world's best cars racing on the big screen. Well, maybe watching them battle it out in Rocket League arenas. In fact, the creators of these movies have apparently come to the same conclusion, as they have created as many as two exclusive bundles in cooperation with Rocket League. The first appeared in the Item Shop in 2017, and the second in 2021. Of course, both accompanied the promotion of the new installments of the iconic saga, and both introduced legendary cars into the game. These vehicles are well-known to all fans of the Fast Saga. Our favorite is the Nissan Skyline GTR, but below you'll find a list of all the different cars that were released along with these DLCs.
Fast & Furious DLC Bundle (Legacy) Contents
Fast & Furious Ice Dodge Charger
Fast & Furious Nissan Skyline GT-R R34
Fast & Furious Dodge Charger R/T
Fast & Furious Bundle Contens
Fast & Furious Pontiac Fiero
Fast & Furious Nissan Skyline GT-R R34
Fast & Furious Dodge Charger R/T
Bond's Aston Martin
James Bond is the world's most famous secret agent, who already has 25 films devoted to his international adventures. In addition to his unique personality, he owes his popularity to, among other things, the beautiful women that surround him and the amazing cars that he drives. So naturally, the creators of this famous movie franchise decided to establish a collaboration with Rocket League. Its result was the creation of three different DLC bundles, which appeared in the Item Shop in late 2021 and early 2022. And which iconic car could accompany them?
An Aston Martin, of course.
The 007 bundles have resulted in the addition of 3 different bond cars to the Rocket League Item Shop. Namely:
Aston Martin Valhalla
Aston Martin DB5
Aston Martin DBS
Unfortunately, this time we just could not pick favorites.
Marty McFly's DeLorean Time Machine
Back to the Future is probably one of the best movies of all time. No matter how old you are, everyone has at least once watched Marty McFly and Dr. Emmett Brown bend the rules of physics and move through space-time thanks to their DeLorean Time Machine. It's safe to say that Epic Games is also a fan of their adventures, as for one of their first collaborations they released the Back to the Future DLC, which included the legendary car itself. Not only was it one of the developer's most creative projects, but it won the hearts of fans to such an extent that in 2021, the DLC returned to the Item Shop. Unfortunately, to everyone's disappointment, the DeLorean Time Machine purchased in RL does not allow you to move to the future.
Ecto-1 from Ghostbusters
Who you gonna call? Ghostbusters!
Each of us has heard of this trusty (well, barely) trio from New York City, who deal with ghostbusting on a daily basis. The Ghostbusters movie is a classic of the 80s, which we loved to watch as children and to which we like to return even now. Unfortunately, the consequence of watching it is always that later its notorious theme song rings in your ears for months. Well, I guess you could call it an occupational hazard. In 2021, on the occasion of Rocket League's Haunted Hallows event, Epic Games decided to release a special DLC bundle that included the Ecto-1, the car that this "intrepid" team was driving around in every day. As a result, players were also able to feel like true Ghostbusters.
Jurassic Park Jeep Wrangler
Do you like dinosaurs? And do you like cars? Well, then you are in the right place. Jurassic Park is one of the world's most iconic movie franchises, the first part of which premiered back in 1993. Clearly, however, fans couldn't get enough of it back then, because in 2015 we lived to see its new installment, namely the Jurassic World series. Well, and just as these films hit the big screens, the makers of Jurassic Park decided to team up with Rocket League.
When the film Jurassic World: Fallen Kingdom entered theaters in 2018, the Jurassic World Car Pack DLC was released in the game. Later on, in 2021, it scored its big return to RL arenas so that players could once again stock up on one of the most iconic off-road vehicles – the Jeep Wrangler.
Knight Rider K.I.T.T.
David Hasselhoff is a true legend of TV and cinema. One of his greatest works is the Night Riders series, produced from 1982 to 1986, which told the story of a lonely crimefighter, who joined forces with his artificially intelligent supercar to fight evil. K.I.T.T. was the name of that very vehicle and years later, in 2019, Epic Games brought it to Rocket League as part of the Radical Summer event. Perhaps this in-game item doesn't have as advanced technological capabilities as its equivalent in the series, but it certainly looks great in the arena.
Conclusions
Rocket League has had a number of amazing movie collaborations in its 8-year history, allowing players to buy a number of iconic cars from the Item Shop. If you haven't had a chance to drive any of them in the arena, keep in mind that many of these partnerships are sure to still reappear in the game, and besides, Epic Games is probably already preparing new, even cooler ones. In the meantime, head over to RL.Exchange and stock up on the best battle-cars permanently available in Rocket League.