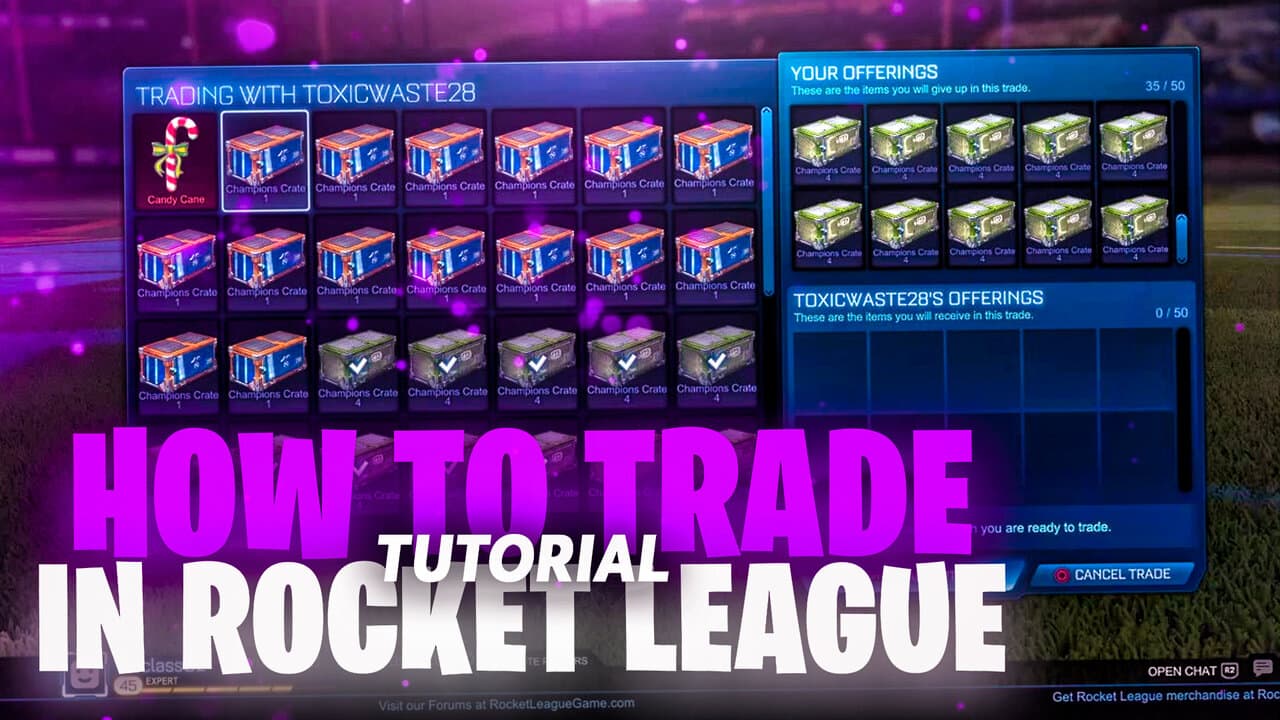 How to Trade in Rocket League? – Complete Guide
How to trade in Rocket League? – In this article we will explain everything
Currently there are many ways to increase your collection in the Rocket League Garage. You have different Blueprints that let you build items in exchange for some Credits. Little by little, you may add more items to your account. Generally, just by playing the game every day, there's a chance that you'll find something new.
Sometimes, you may get a lot of common items or some duplicates that have no more value if you want to obtain everything in the game. You may end up with various things that you can equip in the same slot in your vehicle. To solve this issue, the developers at Psyonix gave us a way to trade in Rocket League items with other players. As a result, with the assistance of some friends, you can increase your odds of getting something brand new.
Also Read: Rocket League Ranks – RL Ranking System & MMR Explained
If you find it hard to find friends or family members that share your passion for the game, you could opt for random players instead. With the aid of some websites, you could trade rarest items with old veterans and obtain the most excellent cosmetics faster.
Remember that the standard currency at the moment are the in-game Credits. So when you form a party, negotiate, offer, and use the trading feature, you may obtain almost everything for them. In this article, we'll show you the different mechanics that you could use to start trading and take full advantage of the feature.
Item Rarity
In the current patch, the rarity level for all of the available goods starts with Common items. These types of items become easily obtainable simply by playing matches. Afterward, you have the Uncommon, Rare, Very Rare, Painted, Certified items that appear at random when you level up. Later on, you'll be able to obtain Import and Exotic items by combining five goods with the same quality. Starting from Very Rare, Therefore, if you have five Certified things, you have the potential to obtain a better item by combining.
Last but not least, you have Limited, Premium, and Black Market items that require more work to obtain. Some of these goods require you to get some DLCs or building a Blueprint in your inventory. Both choices require real cash to purchase these customizations. People from around the world tend to use the trade-in feature to obtain such items with ease.
Also Read: Blueprints Rocket League – 2020 Update
Rocket League How to Trade
After a couple of weeks, you may want to start looking elsewhere for other items to collect. Indeed, by elsewhere, we mean all of the other player's collections and take something from there. When this moment arrives, you'll need to get a hold of players that share your interest in trading. Rocket League trade-in is a great option to "dispose of" five items with a similar rarity from your account. Though, to obtain the best out there, you'll most often need to get them from other players.
If you want to learn how to trade in Rocket League, you'll need to communicate clearly with other members of the community. At first, you have your closest friends that may even give you some assistance in obtaining something useful. Though, some veteran players may find it hard to keep their casual friends involved. As a result, you might be forced to find other players from other parts of the world.
One way to start a quick trade with unfamiliar players is to visit different social media sites. For example, Reddit already has different subgroups that give you different ways to meet players. Similarly, you have multiple groups over Facebook, Twitter, a Forum site that can assist you in trading endeavor.
When you opt to use these Internet tools, you may want to consider a couple of steps. First of all, leave a clear offer about what your interest is. Secondly, you need to specify the console and nickname that you're using at the moment. Last but not least, clarify what you'll want to exchange for the item. If everything goes smoothly, the trading process will start pretty quickly.
Another good tip you need to learn in this How to trade Rocket League process in to use different in-game tools. Sometimes, people playing in Rocket League use the "Looking for Group" feature to find another player that wants any trading. Therefore, if you see something related to "item trading," invite for a party and start the negotiation.
Also Read: Rocket League Black Market Decals Complete Price List
Beginning Tips about How to Trade on Rocket League
Before you start on this journey, you'll need to understand some crucial knowledge about item trading from the Rocket League garage. Therefore take a little moment to learn these tips:
Learning Item Prices: If you want to invite other members of the community for possible trading, you need to see the current prices. You'll have a clear idea of the current items between players leave a fair exchange for both parties.
Start Slow: We know that you'd like to trade as many items as possible through this in-game feature. Still, though, you could take a little moment to breathe and see if you're going the right way. Collect a smaller amount of Credits and use them in any possible trades. When the deal is complete, check if you're getting your money's worth.
Keep Your Posts Alive: When you make a post about any possible trade offers, you might not get a response quickly. Sometimes when this happens, you could get desperate and redo the offer with a lower price. As a result, the party trading could go through, but you'll end up losing income in the process. Leave it there at least a week to see if someone accepts your demands.
Trade Lower Level Items: Sometimes, you should start with one or two items that pretty much have no much value. Even though it looks tedious, by doing this kind of trading, you'll learn the different processes that belong in any exchange.
Take Your Time: Learn everything you need before getting into a random trade with an unfamiliar party. Check videos, and read carefully for any tips(like these) before "jumping-in."
Avoid Crates: You might want to try your luck when you see one random crate like a Golden Egg in a trade offer. Still, there's always the chance that you end up gettubg something that could make you shed some tears.
Demand: From time to time, one item in a random site could change its value when an update hits the servers. Indeed, sometimes it happens when a rare item suddenly becomes easy to obtain. When this kind of phenomenon happens, you need to be ready and trade accordingly.
Negotiate: Learn how to make tentative offers when you invite another player for any possible trades. Additionally, you could share a site to let him know about the costs and how he could end up "winning" in the exchange.
Charisma: A particular site over the Internet could give you a tip or two about trading with other people. You could earn their trust by doing a couple of verbal exchanges in between. Sometimes, you might win a couple of friends by talking accordingly and being positive.
Also Read: RL Insider Alternative – RL Exchange Price List
Avoid Scammers
One of the main advantages when you regularly visit one site that contains the official values is to avoid any scam. Whenever there is some social exchange, people could take advantage of the situation. As a result, pay attention to every movement that goes on the screen and critique anything the other player says. If you see something "wrong" in the middle of the trade, cancel everything, and avoid that person.
At the same time, try not to enter this type of behavior by yourself. More than often, you end up in a shameful video or post, and no one else will want to trade with you afterwards. As a result, your trading days could end quickly in making mistakes such as this.
Keep knowledge up to date about the different item prices to avoid any scam. At the same time, please keep it clean and earn a positive reputation among the Rocket League community.
Also Read: Rocket League Cars List & Their Hitboxes