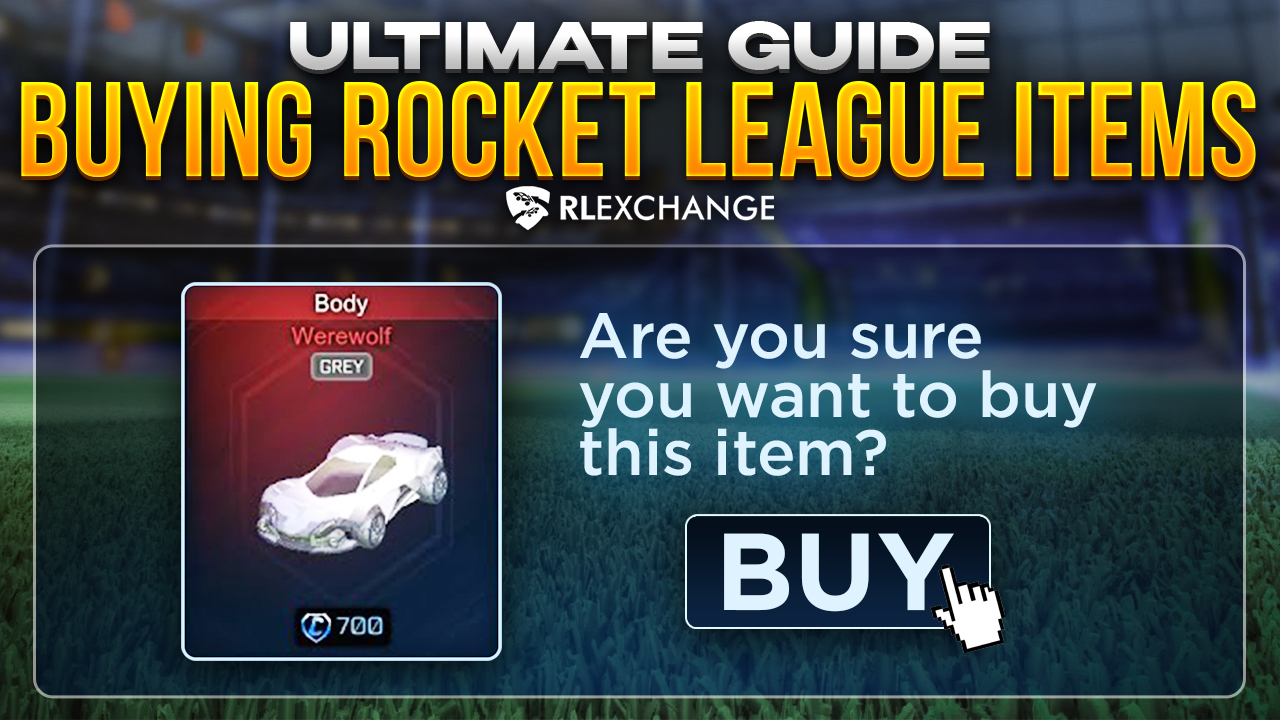 Ultimate Guide: How To Buy Rocket League Items
So… Since you're searching for things like "Rocket League buy items", we imagine that you're probably just starting your Rocket League adventure. Well… First of all, welcome! You're for sure going to love it. Second of all, worry not, because at RL.Exchange we got you covered. This article will not only provide you with comprehensive information about purchasing in-game items such as Rocket League blueprints and goal explosions but also show you how to make transactions at one of the most reputable websites in the industry.
Where to Buy Rocket League Items?
There are two main ways of buying Rocket League items.
First, there is the Rocket League Item Shop, which the player can access through the game's main menu. This is a built-in feature available to pretty much everyone. The store displays various articles, which are updated every 48 or 24 hours, depending on the item. Rocket League players are able to purchase them either with Rocket League credits or real money. However, the only things you buy with actual cash are credit packs and item packs. It's important to note that the articles bought in the Item Shop are tradelocked, which means that they are not eligible for player-to-player trading.
Second, there are third-party websites, such as RL.Exchange, that allow players to make purchases outside the game. They usually offer much better prices than the in-game store and are a much more affordable option for the day-to-day player. At RL.Exchange, we put in extreme amounts of effort every day to stay on top of what's happening on the market and with RL trading trends. We are committed to ensuring that our customers get the best deals and the best service out there. That's why we also offer a 24/7 Customer Support Team that is always there to answer any questions you may have.
What Rocket League Items Are Available for Purchase?
Rocket League revolves around vehicles. Players love to play around with the look of their battle car, always looking for new ways to make waves in the arena. That's why the game provides its players with many opportunities to personalize their vehicles. The number of items that are available for purchase is enormous. We bring you a complete list of everything you can buy and add to your Rocket League inventory:
RL Credits
Battle Cars
Decals
Wheels
Boosts
Toppers
Antennas
Goal Explosions
Trails
Avatar Borders
All of these items are waiting for you at RL.Exchange.
What Are Rocket League Credits?
Credits are a form of in-game currency that players use to make purchases in the Rocket League Item Shop. You can buy Rocket League Credits on various websites, or they can also be obtained from the Rocket Pass, which is a "time-limited progression system that gives several ways to earn new content" (and funnily enough, the Pass's Premium version can albo be bought with credits).
Rocket League Credits come in sets of 500, 1100, 3000, and 6500. As aforementioned, they can be bought in the Rocket League Item Shop and on third-party-websites. On top of that, they can also be traded. Note, however, that once credits are purchased in the Item Shop, a 72-hour Rocket League trading block is imposed on them.
How To Buy Items at RL. Exchange?
As we already mentioned, RL.Exchange is one of the greatest third-party-sites to buy Rocket League Items. Not only does it offer the best prices, but it also guarantees instant delivery and provides an extremely helpful Customer Service Team (just look at the little bubble in the lower right corner). On top of that, we offer you the highest level of security and a full safety guarantee. How?
Our payments are operated by industry leaders such as Stripe, PayPal and G2A.
We are an officially registered, fully-legal business.
We don't require you to provide us with your Steam Account information. You can simply log in via e-mail, or don't log in at all. It's your choice!
RL.Exchange also gives you the opportunity to sell Rocket League items. So if you have any old, forgotten Rocket League skins in your inventory, we'll be able to help with that too!
How Does It Work?
We deliver Rocket League items to all available platforms via trading.
Thanks to the Rocket League trading system, you don't need to log in with your Steam account in order to make a purchase (although you can if you want). All we need is your Steam ID or email account. You'll also need to make sure you're authorized to trade in Rocket League and that all your accounts are public (here you can read more about being eligible for RL trading in the Epic Games system).
After you make a purchase, you will receive an automatic email with your Order ID and a request to join the in-game trade. Depending on the platform, we may also need to send you a friend request (if you want to know more about purchasing for different platforms, be sure to read our FAQ section, where everything is described in great detail).
Conclusions
Rocket League offers its players a lot of different items that they can buy or exchange. If you're looking for the best ways of buying Rocket League items (or perhaps selling Rocket League items), be sure to read our article where we explain everything in detail. Then head straight to RL.Exchange, which is one of the most reputable sellers that will provide you with quick delivery, low prices and even free items.