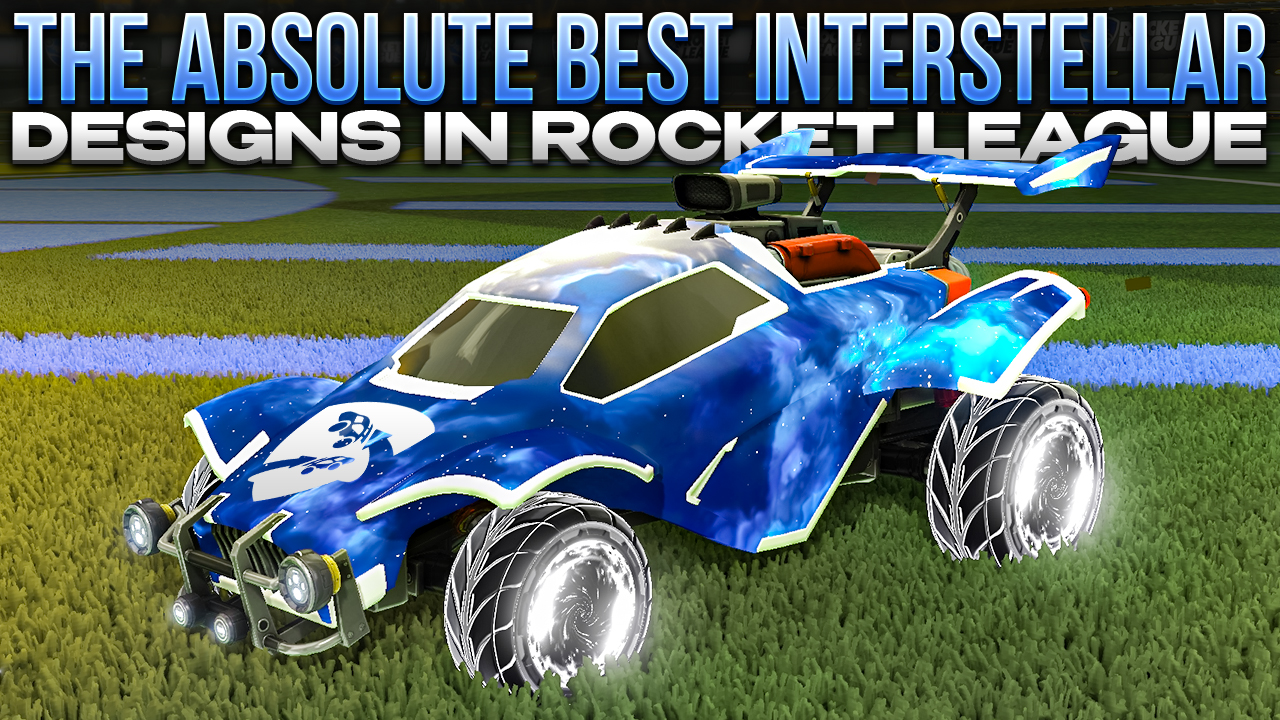 The Absolute Best Interstellar Designs in Rocket League
There are many items, which players can use to modify their cars with in Rocket League. Gamers ave a choice from a wide selection of different Rocket League wheels, toppers and car bodies. Still, none of the items are quite as impressive as the animated decals, One of the best of them all, is the coveted Interstellar Rocket League decal.
The Interstellar decal is one of the many different black market decals available to players, who are really looking to pimp out their vehicles. Originally available in the momentum series crate, it's shiny, flashy design looks great in all painted variants, and can make an awesome addition to any Rocket League inventory.
Do you have the Rocket League Interstellar decal in your Rocket League garage, or are looking to purchase one but aren't sure? Here are some of the best car designs you can re-create, featuring the Interstellar black market decal
Titanium White Fennec
The first car design on this list is very simple, but also extremely stylish, and will make a great impression on just about anyone. This selection of sleek items is a great way to really show off the Interstellar Rocket League decal without having to use too many different items. All you need to complete this awesome design is jsut a couple of items. You obviously need the Interstellar decal, and a Titanium White Fennec to go with it. You don't use any toppers or flags, the Interstellar decal will give your car a great, cosmic loook just by itself. However, to complement this design you absolutely need to get your hands on two more items: Titanium White Hiro wheels and Titanium White Standard Rocekt Boost. For a choice of goal explosion, we suggest the Dueling Dragons.
Blue Elemental
This car design is a great choice for someone who likes all things fantasy, and will give your vehicle a really magical look. The Blue Elemental design leverages a number of items available in the Rocket League season pass 9 with the Interstellar decal to make your car look like something straight out of a fantasy RPG game. Elemental Wheels, Boost and Rocket Trail are the basis for this design. Combined with the Jolt Bangle II topper, these items give you a nice fiery look. To contrast it, you should use a Sky Blue Interstellar decal and stick it on a Sky Blue Octane body.
Black Fennec
While the Interstellar decal showcases the buty of the sky in many colored ways, it can also show the dark void of space. This design really captures that feeling, you can use a black painted version of the Interstellar decal, combined with a black Fennec body. Its one of the scarier Interstellar designs on this list, but if you'd like a slightly edgier look for your car, this design will be perfect. To add some finishing touches, get the black painted variants of the Maelstrom wheels the Ink rocket boost to really drive it home. If you want to increase the spook factor, throw in the Hellfire goal explosion.
Toxic Octane
This car design is slightly more flashy, when compared to others on this list, so if you really want to show off your Interstellar black market decal to other players, this one will be perfect for you. To get this look, you will need a forest green painted version of the classic Octane body, as well as the lime painted version of the Interstellar decal. You'll also need a lime painted version of the Jak'd: Obverse wheels. While these items with green paints will give your car a great, toxic look, you can also add some extra details to really take advantage of these items. The PG Candyfloss rocket boost goes great with the rest of green items in this design, and the purple painted variant of the Ethereal rocket trail will have your car leaving a green hue and smoke behind it. If you can get your hands on it, the purple painted variant of the Tactical Nuke goal explosion is a great finishing touch.
In Conclusion
Interstellar is one of the coolest animated decals you can get in Rocket League. If you still don't have one in your inventory, be sure to check out RLexchange, the best Rocket League trading website, where you can get black market decals for the best prices possible. Also, if you enjoyed this article, be sure to check out the rest of our website, where you can learn more tips and tricks on how to get better at Rocket League!