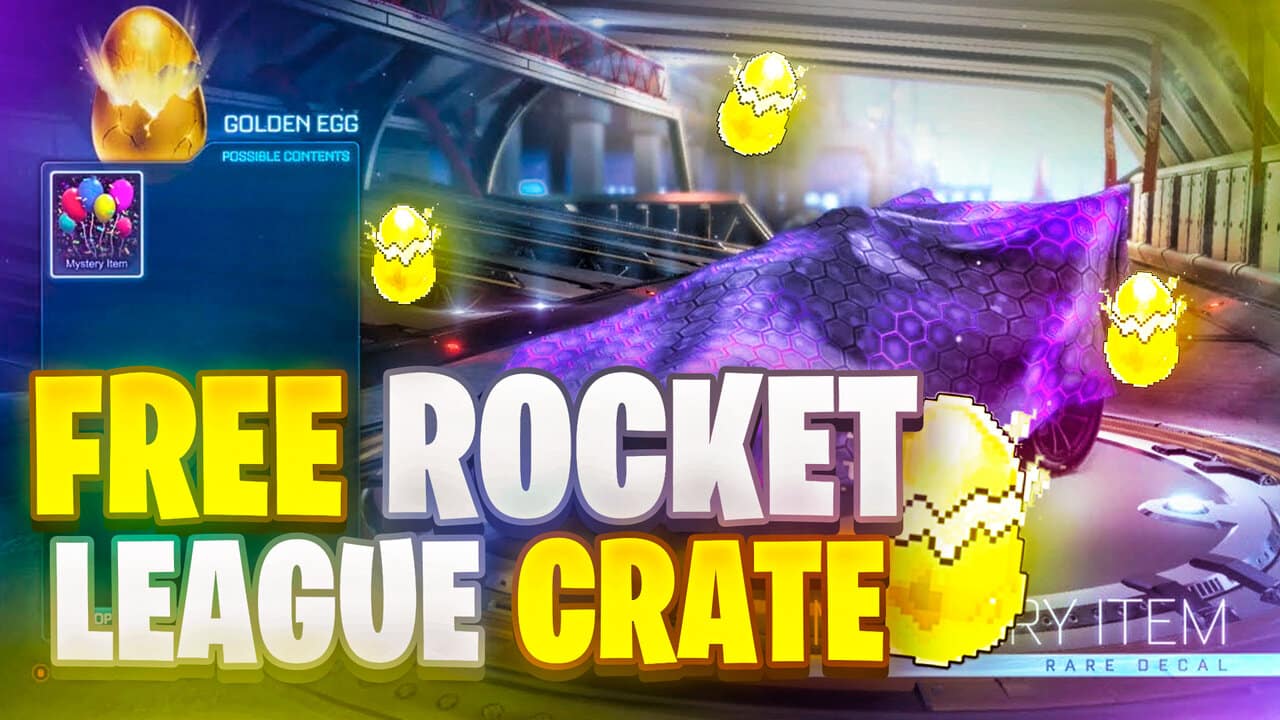 Golden Egg Rocket League Free Crate
During different events over the video game history, the developers usually try to give back something to their community. They use important dates of the year (For example, Halloween) to celebrate the year's holidays. At the same time, they also take advantage of the days-off to give the players a reason to play their game when there's nothing else to do.
Secondly, they introduce theme-based items that enrich the game and increase player's virtual inventories. Just like the Halloween event, you have the chance to see "spooky" stuff that relates to different monsters. Therefore, the collectors find their way to obtain new items for their accounts.
Psyonix uses select dates to add a new type of Crate that contains different items from previous events. As a result, you'll have the chance to modify the Octane a little more with different unique decals. Golden Eggs in the Rocket League tend to have great value for the community.
In this article, we'll discuss the previous versions of those special crates and the possible items that you could obtain.
Also Read: Rocket League Ranks – RL Ranking System & MMR Explained
Anniversary Events
One of these special holidays that happens in Rocket League community is the yearly anniversary. In July, Psyonix uses the entire month to celebrate another year of game's existence. During these days, they also add new playlists or even completely new game modes. There is also a chance we may see new stadiums or customization items.
Developers take advantage of this holiday to induce nostalgia intheir beloved players by returning gaming features and gameplay mechanics. As a result, veterans can remind themselves of any good/bad memories that they had during the years of playing the Rocket League game. Furthermore, new players get to experience the classic contents of the game and give their opinions to the old content.
You'll have a chance to get the old "retired" items of the game that were in the Garage. They add an attractive new crates with old Vehicle Bodies, Decals, and other random items. Since Rocket League launched around five years ago, they continuously gave away different goods to change your car and make it your own. With the addition of the Rocket League Golden Eggs items, you'll get the chance to get them all in your inventory.
Also Read: Glorifier Rocket League – The Big Blueprint Surprise
Golden Egg in Rocket League
With the addition of this new crate, players have the chance to earn different items from the previous series that aren't available anymore, unless you get lucky with trading. When events like these hit the main servers, all of the community has the potential to gather additional items.
Within the Anniversary event, you were able to obtain balloons after a random match concluded. With this type of currency, you could trade some amount for a new Golden Egg. Which you could open without the need of Credits or any other type of currency.
A month ago, players had the opportunity to acquire as many Golden Eggs as possible and obtain their contents without too many complications. Sadly, this crate is no longer available in the game, which means that you can only receive Golden Eggs by trading with other players. Luckily, many events can occur in the year, which means that they could return to the menu.
Last but not least, since Rocket League is going "free to play," there could be a lot more customization options to obtain and support the developers with this type of content. We could have a lot more events that could increase the chances for new players to acquire the old items in the Rocket League.
Also Read: Rocket League Black Market Decals Complete Price List
Types of Golden Egg Crates
Besides the Golden Egg that comes with the Anniversary Event, we also can acquire similar crates that contain interesting items to customize our cars. These types of goods that share similarities are the following:
Radical Golden Egg Crate: A crate from the Radical Summer event, to obtain this Golden Egg, you needed to exchange some Cassettes. Due to the theme, it contains items that are related to the Summer
Anniversary Golden Egg Crate: This is the event that happens every time the game gets older by another year. In this event, the Golden Eggs have different elements from the Champion series.
Golden Gift Crate: One of the events that take place in the last part of the year. We get to celebrate the Christmas event with the rest of the community while we obtain exciting gifts in the meantime. This crate comes with goods that are related to Christmas.
Golden Pumpkin Crate: As you may already guess, this crate comes with different stuff with the Halloween theme. Therefore, you'll get to check out this type of event around October.
Golden Lantern Crate: You'll get the chance to acquire one type of this crate in the Chinese New Year with different goods related to this type of celebration.
Also Read: RL Insider Alternative – RL Exchange Price List
Golden Egg Rocket League Crate Content Creators Videos
Different people from all around Youtube tend to celebrate these types of events by showcasing Rocket League Golden Egg Items in their channels. We get to see multiple openings of a Golden Egg and how lucky they can get. When the summer event goes live, you'll get to see how your favorite Youtuber earns a couple of decals for their Octane.
At the same time, when they open a crate like a Golden Egg, we get to see the possible goods that we could get. You could either gather as many Golden Egg Crate as possible or trade them with other players. Additionally, since this game mode is a free event, we can maximize the time we play the game and obtain more Golden Egg Crate to our accounts. So even if we hold that type of crate for later trades, it can help boost our credit balance.
Also Read: Fire God Rocket League – The Best Animated Decal
Internet Tools for Golden Egg Crate
If you're still doubtful about opening your Golden Egg Crate, you could "simulate" a couple of unlocks with the aid of the Internet. When you open the Rocket League game and check your inventory, you will have a better understanding of the odds.
Try clicking on the button and see for yourself how worth it are the Golden Egg Crate in Rocket League in your inventory and if you should open or trade them. You could have a better Octane by trying your luck or asking that item from other players. Last but not least, remember that you don't need credits to open the Golden Egg Crate in Rocket League, which increases its value.
Also Read: Rocket League Servers Down Again? Check Current Status