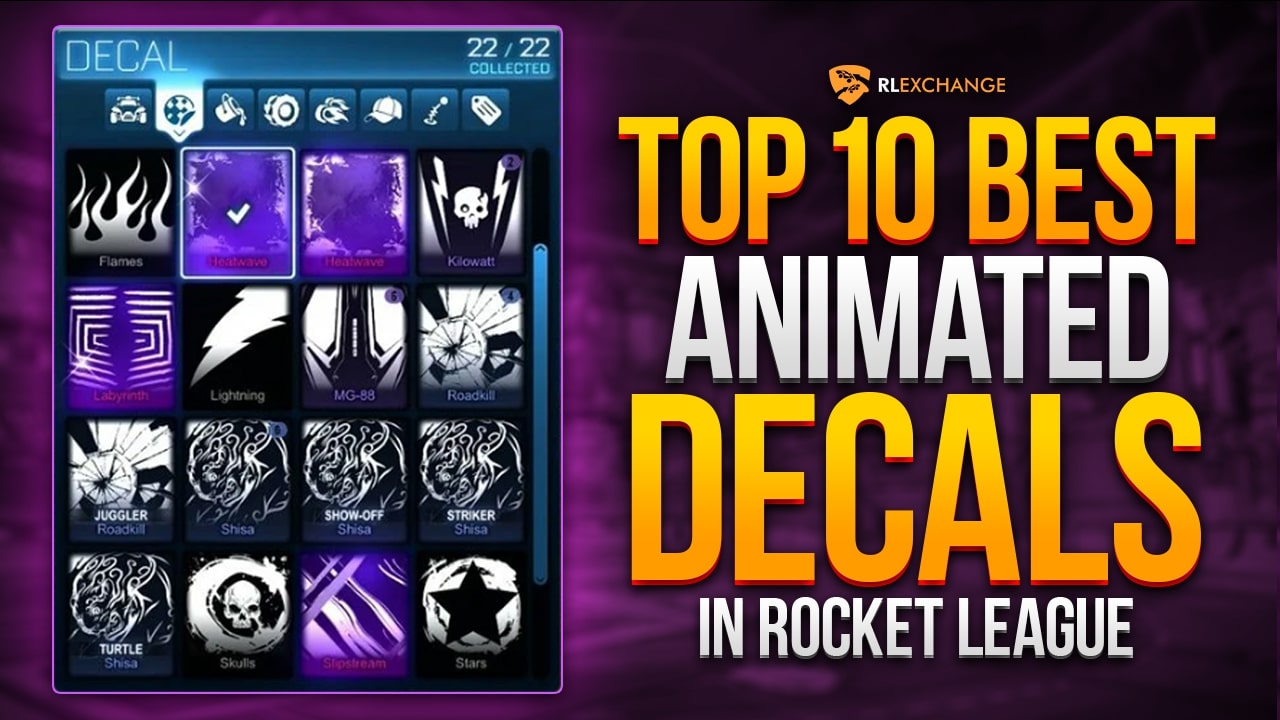 Top 10 Best Animated Decals Rocket League
One of the best things about Rocket League is how much customization it gives players over their cars. Players can customize many different features of their vehicle, such as wheels, goal explosion or paint job. Decals in Rocket League are some of the more important cosmetic items, as they are a key part of every flashy design.
Animated decals in Rocket League are among some of the most desired ones. These rare decals can make your car look great in all possible color combinations. Here are the top 8 most awesome decals in Rocket League that you can use to make your vehicle stand out from other battle cars and show other players your style.
Fire God Decal
The Fire God is perhaps one of the most popular decals in Rocket League. This animated decal adds a fiery effect to your car, making it look like it's on fire. Flames are often associated with speed and with all the different rocket boosts and explosions in the game, the Fire God decal can give your cars a fiery look. This flashy decal works best with red paint job or other bright colors, but if you want to experiment with the many different Rocket League cosmetics, the Fire God should give your car a badass look, regardless of the color combination.
Tidal Stream Decal
The Tidal Stream Decal is one of the best animated decals in Rocket League, simply due to the quality of its animation. When you use Tidal Stream with your skins, it will make your Rocket League car's paintjob look like it's covered in fluid. This animated effect looks very impressive in motion, so static pictures don't really do the Tidal Stream decal any justice. A great part of it is that it also looks amazing with almost every paint and color combination, aside from red.
Dissolver decal
The Dissolver is one of the more popular Rocket League decals and an absolute fan favorite for a very long time. Given out as a part of different Rocket League events, you can see the Dissolver decal often when playing with other players. As the title suggests, the animated effect will make your car look like it's slowly dissolving. One issue with this decal is that it can look a bit underwhelming with certain color combinations, however, players who are willing to experiment with different paints can create an awesome design using the Dissolver decal.
Stipple Gait decal
This minimalistic decal lacks some of the animation effects of the more popular decals, but this makes it a perfect choice for players who are looking for something nice and simple. Stipple Gait is a very universal decal, which works great with different color combinations and can help other elements of your design, like wheels or toppers, stand out. If you don't like the over-the-top looks of other black market decals, Stipple Gait is an animated decal, which is fun without being too flashy.
Slipstream Decal
One of the more popular black market decals, Slipstream is one of the oldest animated decals in Rocket League, while at the same time being one of the most impressive decals in the game. Most importantly – the Slipstream decal can use 3 different colors in its color combination, which isn't typical for every decal. Although it looks a bit chaotic and isn't to everyone's liking, it's definitely still one of the more impressive-looking decals in the game. With so many colors and an animated effect that only moves up on one side of the car, Slipstream is a decal that will make your Rocket League cars stand out.
Heatwave Decal
The Heatwave decal is easily the OG black market decal and one of the oldest Rocket League decals. Heatwave has animated effects similar to the Fire God decal, although it has slight differences. For one, the accent color is on the outlines of the car. It may not be the flashiest Rocket League skin for your car, but it definitely gives your vehicle the classic look, that some of the players interested in the Heat Wave might be interested in.
Interstellar Decal
The Interstellar decal is one of the most impressive decals in Rocket League. The unique animated effect is sure to catch everyone's eye, as it sports a beautiful night sky, covered in clouds and stars which constantly shift place. Working best with darker paintjobs and similar elements, the Interstellar decal definitely stands out as one of the most beautiful Rocket League decals you can get on the black market.
Mainframe decal
The Mainframe decal is a great choice if you want to give your car a high-tech style. Featuring many details, such as an animated circuit board, this black market decal is the perfect pick for those Rocket League players, who pay attention to details. Although the animated effect might not look the most impressive, the Mainframe decal will definitely look attractive to players who want a fresh and simple look, but also to attract the attention of other players in a match.
The Stride Tide decal
The Stride Tide remains one of the most expensive decals in Rocket League. This isn't without a reason, as the Stride Tide is easily one of the most impressive decals you will find in the game. Its extremely flashy and clean design works best with bright colors such as yellow or red. The animated effect constantly shifts, giving your car almost a camouflage effect, albeit an extremely flashy one.
20XX Decal
This absolutely classic decal is closing the list, with its amazing animations and possible color combinations. The different stripes on your car will constantly light up and shift, putting the 20XX among the most impressive animated decals in Rocket League. And the best part? The 20XX can be painted with 3 different colors, which will constantly shift and attract the attention of every player in the match.
In Conclusion
Rocket League has an amazing collection of different decals, which you can use to customize your car. New decals are added regularly in DLC packs, together with wheels, toppers, antennas, and other Rocket League cosmetic items. If any of the decals in this post caught your eye, remember you can buy it instantly using rl.exchange for the best price available on the market.