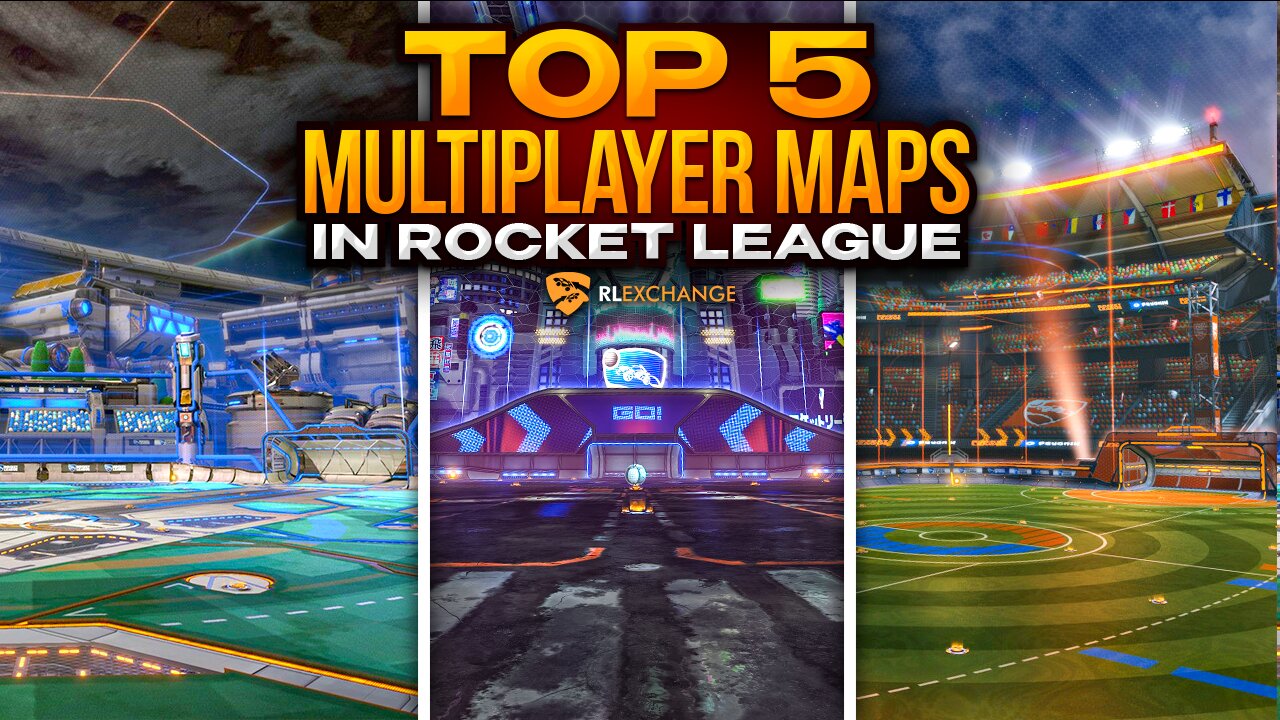 Top 5 Best Multiplayer Maps Rocket League
Besides the classic orginal game mode, Rocket League players can also choose a selection of custom maps to play. The Rocket League community regularly creates new maps and each custom map can have it's own unique game mode.
Custom maps are very popular in Rocket League, with many different community creators providing players with free to play custom workshop maps. You can find some pretty amazing maps to play by yourself, but custom multiplayer games are some of the most fun you can have in Rocket League.
The custom workshop maps are a great way to relax if you're tired of the classic Rocket League map. Here are the top 5 custom maps to play online with your friends.
Best Rocket League workshop maps
Aim Trainer by CoCo
The Aim Trainer created by CoCo is one of the most popular Rocket League workshop maps. Besides being an all around great custom map, the Aim Trainer is the pefect map if you want to practice accurate shooting.
The goal of the game is fairly simple and straightforward, the players have to shoot the ball at green squares. While you can try practicing your accuracy with friends by each taking turns, Aim Trainer actually has more to offer beyond it's basic game mode. Players can also choose to ply the survival mode, or a game with their custom settings.
Whether you are trying to practice by yourself or have fun with your friends in multiplayer, this workshop map is definitely worth checking out.
Giant Rings by Lethamyr
Another workshop map which lets you practice some crucial Rocket League skills, Giant Rings is focused on air-handling and boost skills. Giant Rings is perhaps the most famous workshop map in Rocket League.
It's popularity is well deserved, as this custom map completely changes how the game is played. Instead of the classic game mode, in this custom map the players have to fly through a series of hoops by staying in the air. The track gets progresively more difficult, making it a fun substitute for the usual Rocket League gameplay.
Dribble Challenge by Lethamyr
Lethamy is very well known in the world of Rocket League workshop maps, and this custom map is just a proof of that. Another custom map by Lethamyr, Dribble will also test your Rocket League skills, this time in Dribbling.
The premise of this workshop map is very simple – dribble the ball from point A to point B, while evading the labirynth of obstacles. The catch here is that the Dribble Challenge workshop map is extremely difficult. Travelling through the whole labirynth without losing the ball is a serious challenge. But that is why this workshop map is so much fan in multiplayer games.
Dacia Spring Electric Challenge by Gidek
Maybe not as popular as the other custom workshop maps listed here, Dacia Spring Electric Challenge still is a fun way to switch up your Rocket League gameplay from time to time. Not only very fun, the Dacia Spring Electric Challenge sports some impressive visuals, not often seen in workshop maps.
This is one of the many maps that will put your crucial Rocket League skills to the test. In case of this custom map, boost and recovery management are the two key abilities required. The map is a long and complex obstacle course with 20 different levels. If you're looking for workshop maps where you and your friends can really test your skills, Dacia Spring Electric Challenge will give you a challenge you need.
Yoshi's Circuit by Thankrek
Easily one of the best maps created by the Rocket League community, Yoshi's cricuit combines two popular games – Rocket League and Mario Kart and meshes them together in a sungle custom map. This one is a real treat for all te fans of racing games.
This is one of the most straightforward workshop maps, Yoshi's cricuit delivers exactly what you expect of it. It's one of the best Rocket League workshop maps for multiplayer if you like racing. The custom map contains 10 circuits for you and your friends to race one, which ensures you'll have fun for a very long time.
How To Get Custom Maps In Rocket League
Rocket League has a large selection of workshop maps and custom games. There are couple of ways you can get custom maps for Rocket League:
Use The Steam Workshop
Perhaps the easiest way to get new custom maps for Rocket league, simply navigate to the Steam Workshop map page, subscribe the custom map and download it. You should be able to play the map, sometimes you might have to restart Rocket League for this to work. Also, some custom workshop maps might require you to download additional textures and plug in to run without any issues.
Install The File Manually
If you're not using Steam to play Rocket League, you might have to download the files manually. Thankfully, this is very easy as there are many websites hosting various rocket league mods and custom maps. When you download a file containing custom maps, it will be a .zip file. Now just navigate to the CookedPCConsole directory in your Rocket League folder and create a folder called 'mods'. Now all you have to do is extract the map file with a .udk extension to the mods folder.