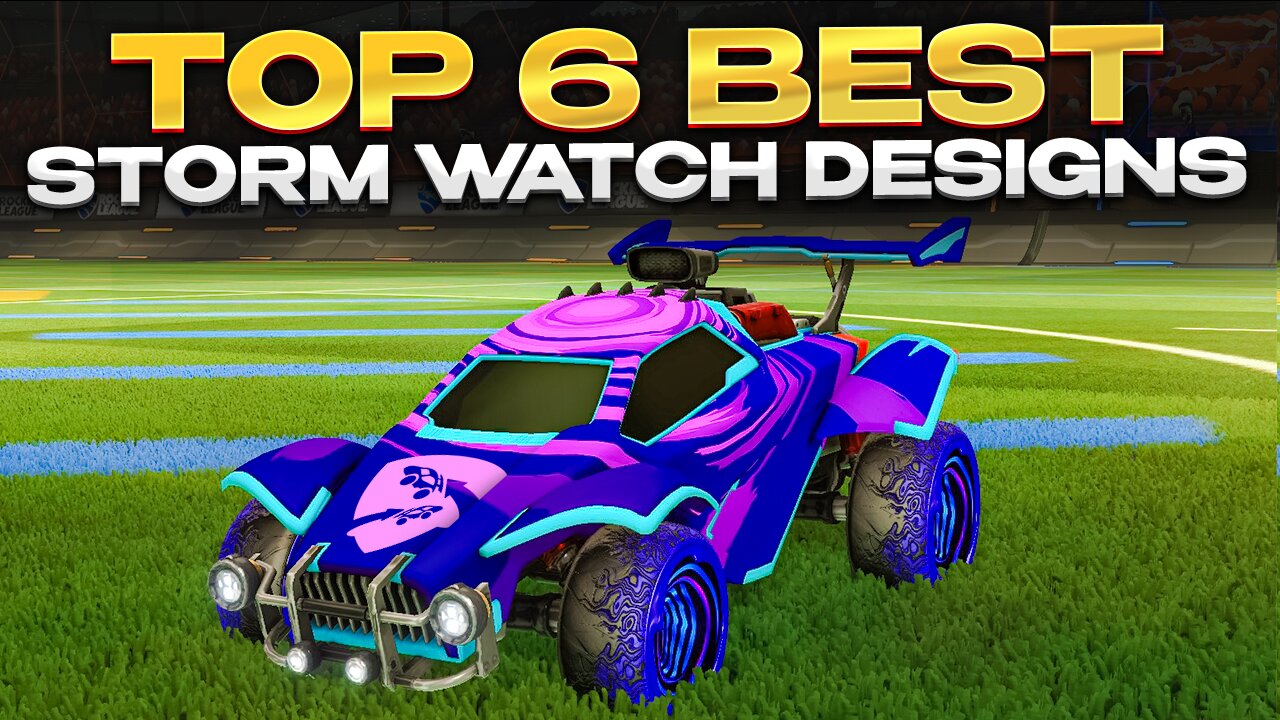 6 Best Storm Watch Rocket League Designs to Elevate Your Game
Rocket League is one of the most popular games in the world. Players love to collect online cars and show them off in matches. There's nothing better than a new pair of wheels or a fresh coat of stripped-down paint. The customization options in Rocket League are endless, but today we're going to tackle one of the most popular, which is decals, specifically the Storm Watch decal.
Decals allow players to change the design of their cars in Rocket League. With them, they can dress up their vehicles in flames, skulls, and various other patterns that will attract the attention of opponents in the arena. This can not only boost the player's confidence, but also positively affect their performance on the field. Due to their popularity, Rocket League offers a huge number of decals, however, it should be noted that each car has a specific set of available options, which differ not only in appearance but also in rarity and price.
The Storm Watch wows players with its sleek Tokyo Drift-like design. As a black market decal, it is a very rare in-game item (the chance of finding it in a crate is about 1%), which was first introduced to Rocket League in 2018 as part of the Victory series, and later added to the Triumph series. Apart from that, it can now be found in some Golden Gift crates or acquired through trading with other players. Although all variants of the Storm Watch make a huge impression, some of its color combinations really stand out from the rest. Here are the Top 6 Storm Watch Designs that will help you grab attention in the arena.
The Storm Watch Octane
Anyone who has ever played Rocket League is familiar with the Octane. It is one of the most popular cars that can be unlocked early in the game. This blue-themed Storm Watch version will seriously hypnotize you (especially with those hypnotizing wheels) and make it impossible for your opponents to take their eyes off your car.
Body: Octane (Cobalt)
Wheels: Hypnotik (Cobalt)
Decals: Storm Watch
Primary Paint Finish: C8-R1
Accent Paint Finish: C10-R3
The Storm Watch Cyclone
The Cyclone is one of the most sleek-looking cars in the entire game. This is a real gem in the Import category, and any player will not shy away from showing it off on the field. Especially in this Storm Watch Orange version, which will impress (and additionally probably scare) any opponent.
Body: Cyclone (Orange)
Wheels: Ranjin (Orange)
Decals: Storm Watch
Primary Paint Finish: C9-R1
Accent Paint Finish: C4-R3
The Storm Watch Sentinel
The Sentinel was first released in 2019 and is also part of the import category. This car, which looks straight out of Formula 1 and the Batman movies at the same time, is a favorite of many Rocket League players. The Storm Watch Cobalt version brings it to yet another level.
Body: Sentinel (Cobalt)
Wheels: Creeper (Cobalt)
Decals: Storm Watch
Primary Paint Finish: C8-R6
Accent Paint Finish: C1-R4
The Storm Watch Nimbus
The Nimbus, mainly associated with a cloud type or the flying broom from Harry Potter, is one of the most popular cars in the Rocket League. Its aerodynamic design combined with the Storm Watch decal will actually transport you to the world of Tokyo Drift on the pitch.
Body: Nimbus (Sky Blue)
Wheels: NeYoYo (SkyBlue)
Decals: Storm Watch
Primary Paint Finish: C4-R4
Accent Paint Finish: C1-R1
The Storm Watch Mudcat GTX
The Muscat GTX is a variant of the Mudcat, which is a Rocket League car modeled after the Subaru Impreza WRX STi. It is a part of the Limited category of vehicles. The Strome Watch Lime version is a real treat for players who love to be the center of attention. This car is sure not only to impress your opponents, but also likely to blind them.
Body: Mudcat GTX (Lime)
Wheels: Cephalo (Lime)
Decals: Storm Watch
Primary Paint Finish: C1-R3
Accent Paint Finish: C5-R3
The Storm Watch Fennec
Last, but certainly not least, we have the Fennec. This car is a true the star among all vehicles available in Rocket League. Players have been hunting for the Fennec since it first appeared in the game. The Storm Watch Grey version will make you feel invincible on the field.
Body: Fennec (Grey)
Wheels: Cutter (Inverted)
Decals: Storm Watch
Primary Paint Finish: C4-R1
Accent Paint Finish: C1-R3
Conclusions
Rocket League is full of amazing items that allow players to take their experience to a new level. The Storm Watch is just one of the many decals available in the game. If you want to learn more about other designs or the best battle-cars, then visit RL.Exchange, where you will not only be able to read about them, but also buy them.